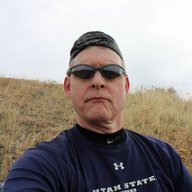 Joined

Dec 23, 2013
Messages

3,159
I took the day off from work to head out to the Cedar Mountains in the west desert to hike up Tabby's Peak before the weather turned south here in Utah. Tabby's Peak is located in the southern portion of the Cedars, and the easiest access point is from Rydalch Canyon. It took us a couple of hours to drive to the canyon, and along our drive south along the west side of the Cedars we saw 17 antelope. We parked my Jeep at a point where a drainage intersected with the dirt road, and then we made our way up the drainage to a saddle located between Tabby's Peak and unnamed peak 5485. After a short break, we proceeded to make our way up the northwest line to the summit ridge of Tabby's Peak. Once on the ridge, we then had a short scramble to the northeast and the summit. After taking a long lunch up top, we headed back down (southwest direction this time) to the Jeep and headed back home by driving over Rydalch Pass and down into Skull Valley and back to Salt Lake.
Heading south on the west side of the Cedar Mountains
Just entered Rydalch Canyon with Tabby's Peak ahead.
Tabby's Peak - viewed from the south
Making our way up the drainage
First view of Skull Valley, the southern tip of the Stansbury Range and the Onaqui Mountains to the southeast
View of the top from the saddle
A lot of dead Junipers to take pictures of along the way
Danny digging in
We were aiming for these rocks with lichen on them along the summit ridge
Looking northeast along the summit ridge at the summit
Approaching the high point
Looking north along the Cedar Mountains. The high point of the range can be seen in the middle of the image.
Looking east towards the Stansbury Range and Deseret Peak
Looking west towards Wildcat Mountain and Nevada
Deseret Peak across Skull Valley
Looking southeast across Skull Valley towards the Onaqui Mountains
Looking southwest towards the Dugway Range
Looking south
Kite flying time
Looking down below for wild horses
Our summit shot
Heading back down
Horse bones ?
Wild horse scat
Small spring we ran into on our way back to the Jeep.
The Jeep eagerly awaits our arrival.
Tabby's Peak from the Skull Valley side of the Cedars.