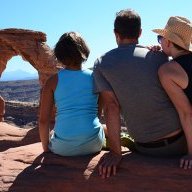 Joined

Dec 29, 2014
Messages

103
What do you usually do on a New Year Day? Recover from Hangover? I decided that I will start my day off with a bang and do something I never done. I reviewed my bucket list and I had decided to take road trip to Salt Flat, Wendover and Sun Tunnel.
While driving toward Salt Flats, my hiking bud pointed out the Tree of Life which is an 87-foot-tall sculpture that was created by the Swedish artist Karl Momen.
Tree of Life- It is located in the desolate Great Salt Flats on the north side of I-80, about 25 miles east of Wendover. The sculpture, which is constructed mainly of concrete, consists of a squarish 'trunk' holding up six spheres that are coated with natural rock and minerals native to Utah. There are also several hollow sphere segments on the ground around the base. The sculpture currently has a fence surrounding the base to protect people from falling tiles. Unfortunately, you are not able to pull over to take a photo so I took a hot while the vehicle was moving.
While driving of I-80, my hiking bud figure out there is a dirt road while looking at the google earth to turn into Salt Flats. This road was so rocky that we had washes that dipped and we had to be careful to prevent a flat tire. He mentioned to me that Salt Flats is the only place on earth where you can see the curvature on earth. Cool! I am dork so I like that.
When you turn into the dirt road of I-80.
Photo time!
Taking it all in
This is the dirt road. Stepping.
Hooray!!!!
Cobb Peak
Once we left the Salt Flats, I was eager to get to Wendover. Now I don't gamble but I was anxious to see what it looks like. I found it interesting how Wendover is a town caught between two states, Nevada and Utah. Due to taxes, they splitted town. West Wendover, Nevada is prosperous, and has gambling. Wendover, Utah is poor, run down and no gambling is allowed. This is "poor" Utah.
If you look at this photo of Montego Bay parking lot, it is on the side of Utah but once you reach the building you are in Nevada. How exciting is that?
Nevada slash Utah. Awesome. Now that I got it out of my system. We headed out to Sun Tunnel.
Something I learned while coming across the Pilot Peak.
Pilot Peak
is the highest mountain in the Pilot Range in Nevada. Pilot Peak was named in 1845 for its use as an easily recognized landmark.John Fremont saw the peak from the east during his third expedition, mapping the Great Basin. Wondering whether his entire party could cross the desert he sent Kit Carsonahead to scout for water sources. Finding a perennial spring just east of the peak, Carson lit a large bonfire, the smoke from which signaled Fremont that the crossing was possible. I can imagine they were so happy! If the song Happy song by Pharrell Williams existed, it would probably be on re-play.
"Because I'm happy
Clap along if you feel like a room without a roof
Because I'm happy
Clap along if you feel like happiness is the truth
Because I'm happy
Clap along if you know what happiness is to you
Because I'm happy
Clap along if you feel like that's what you wanna do"
Anyway, moving on....
Pilot Peak Mountain.
Taking a break from driving.
\
One of the washes we came across.
I never understood why he always had the shovel. I thought it was because he was a secret ex-Mormon mobster and need to bury a body just in case. As soon we came up on the wash where the car can dip too deeply, he removed the shovel from the car and filled in the wash with rocks to even the road out so the car can pass with no damage. Ahh, it's a good thing he is not a killer.
Featured image for home page: