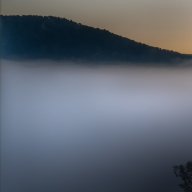 Joined

May 19, 2012
Messages

1,968
I decided to get away mid week, and I only had 2 days so I decided to visit Dominguez Canyon. I had been there in the summer once before, but it rained on us, so there was a lot of water flowing. This time, I expected a low stream level, but still flowing. My AC does not work, so It was no surprise how hot it was when I got out of the car at Bridgeport, but I like the heat so it wasn't too bad. I think it was 96 in Grand Junction. Mine was the only car in the lot which was good. When I got to the mouth of Dominguez at the Gunnison, I ran into some day hikers who were on a float trip. One guy said it was completely dry 2 miles up the canyon, where they turned around. Completely dry? Are you sure? Yep. Never seen that before. Nope.
One thing I know for sure now, if you want to see big horn sheep, walk along this canyon mid day in mid June. I stopped getting my camera out, I saw so many of them.
So I was getting a little nervous and paranoid. Was there no water further up the canyon? Surely there must be pools.
When I got to the "big" waterfall, things were not encouraging.
I have never seen this dry in the last 8 years. The good thing was there were lots of pools, but most were getting a little "soupy".
Time to switch to an alternate plan, and that was to camp at a spot that I know (hoping for some deeper pools) further up the canyon, and explore the stream bed up canyon early the next day. I have never been able to walk along the stream bed here very far, unless you want to negotiate the stream and other obstacles. The water has always been flowing a a good rate when I have been here. So to visit with out the stream was kind of cool.
It was very quiet.
And hot.
Shots from the hike up canyon:
I reached my goal around 5, it took me about 4 hours to go 3 miles. I stopped a lot, took a nap.
The camp spot is essentially a sandy area (at the far right end of the sloping pointy rock, pic above) surrounded by these boulders and fins thrown up at different angles, suspended about 75' feet above the stream. Very shady, and protected from the wind.
A shot of the pointed rock from above, which doubles as the main terrace.
View looking down canyon from the terrace. Good news! The water is flowing here, but just barely.
As a side note: my MSR gravity pump has now worked flawlessly for about 60 days, almost exclusively in the desert southwest. I don't miss pumping at all.
2 self portraits:
So I decided to day hike the next day the 2 or 3 miles up the stream bed to where the Cactus Park trail enters the canyon. It was one of the most beautiful hikes I have ever done. The stream bed was predominantly this blue rock, shaped in fantastic forms. Swimming pools were conveniently spaced every 30 minutes or so. Lot's of shade. And little rainbow trout, maybe 3-7", in every pool.
I was eventually stopped by a large waterfall before Cactus Park, and found it much more docile than the last time I was here, a picture that I took 2 years ago:
This was the most beautiful pool of the hike, at the end.
Same view as above:
Looking out from the pool.
Now, the 6 mile hike back out, much easier than the walk in.
Greg