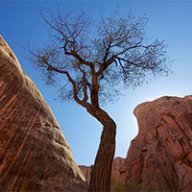 Joined

Aug 9, 2007
Messages

12,939
Let's hear what everyone has planned for this summer. It's heating up in the desert and the mountains are just about ready!

Here's what I'm planning on right now:

One more trip to Zion to slosh through The Narrows in mid-June

Something up in Idaho late June - Seven Devils's or Sawtooths?

Early July: Point to point from Highline TH, through Naturalist Basin, over to Rock Creek then over the pass to Priord Lake and down.

In between: day hike or quick overnight everything I can in The Wasatch. Lake Blanche, etc. I've lived here for 6 or 7 years now, about time I started hiking some of it.

Late July: Highline Trail end to end

Somewhere amongst all of that I'd like to get in a few good trips to The Winds. Titcomb Basin is looking good. Still not sure of where else to head up there and still not sure if I'm willing to do it solo so far from my home turf. We'll see…

So what do you have planned?