I love little one night trips. Hike a few miles in, set up, and see what you see. For the last couple of years, I've tried to get to new sites. I admit that I find a site or two that I like, and they're the ones I try to go back to, again and again, so I am on a kick to try to see a few more sites. This trip was my first backpack of the year, and occurred in June. Everything was fresh and green. (I hope I didn't do this trip already. I don't think I did. Trout Whisperer said I should post more, and I didn't think I had, so sorry if this is a rerun.)
The trail starts out flat and wide.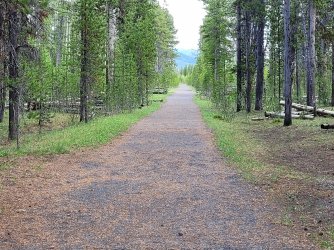 After a bit, it actually turns, and you lose the feeling of being on a road.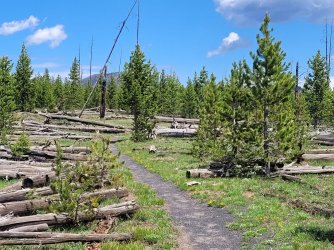 The walking was easy. There were views. There were little flowers right by the trail, and small animals and birds bumping around in the downed logs. I was always looking for bears, but never saw anything bigger than a chipmunk.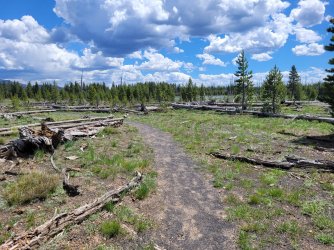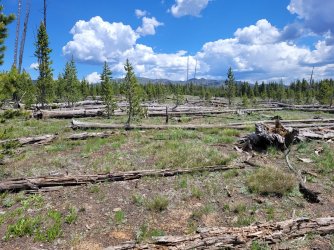 There was a bit of sameness to everything, but IT WAS THE FIRST TRIP OF THE SEASON!!!!! I'd missed that for the whole winter. It was pretty wonderful.
In just a few miles, I arrived lake side. This lake has four marked campsites. One seems to always be closed, which I think is due to nesting swans. I forgive them. They are welcome here. For this adventure, I was going to the site straight across the lake. On an earlier trip here, I had seen a couple of people who had inflatable inter-tube floaties, and had been moving around the lake. It looked like fun, but it also seemed a bit heavy. Dang it looked fun, though. Without any floaties of any kind, I was going to have to walk over there, so off I went.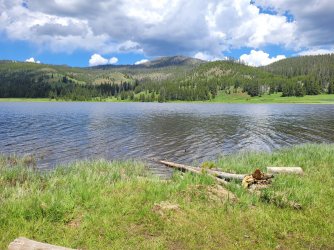 If it looks a little marshy, it's because it was. Why yes, I did get my feet wet.
There was a stream I had to get across. I looked around and finally found a place where it was just narrow enough that I wouldn't have to step in it. I was surprised that there wasn't a trail leading directly to and from it, but I had to rediscover the route on the way out, too.
My campsite was in the trees ahead. Gotta get through the marshy stuff first, though.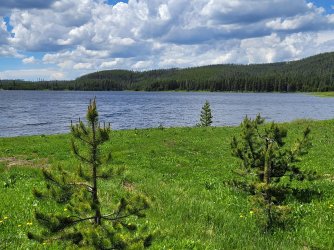 Waterfront property!!! Location, location, location!
I mean, it was ok… .
There was some wind, so I tended to hang around the camp kitchen, instead of right at the lakeshore. The kitchen area was back from the lake, maybe 100 feet. From it, you had a nice view, because the underbrush wasn't very thick, and you were enough off the lake that you weren't being buffeted by the wind. In fact, in Yellowstone, the things I think about most when picking a campsite are wind and bison. Wind can make it cold even in July, and bison… they'll kill you. Then the bears will eat the body. Not good.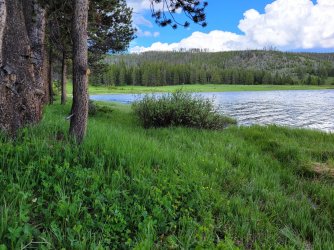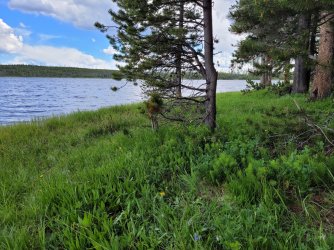 After I had the food hung, and put up my tent, those clouds actually turned into an afternoon storm. Fortunately, it was a perfect time for a nap.
I was awake enough to know that not only did it rain, and rain fairly hard, but there was hail. My tent dealt with the hail well.
Somehow, though, my fairly new Sea to Summit sleeping pad had lost it's will to hold air. It had been plump when I put it in the tent, but now it was flat. Pancake flat. Hmmm. I blew some air in, but it didn't seem to be getting full. Must look… .
Oh.
Somehow, I had put a slit in it, about two inches long. No wonder it wasn't holding any air.
I didn't think there was going to be a way to repair it, but I did have some Tenacious Tape. Maybe it would work. So I dug it out and cut a piece bigger than the cut. I rounded the corners, and then stuck it on. It covered the whole hole. I let it sit for a bit, though I don't really know why. Curing? Tape? Whatever.
I grabbed my Flextale pump (which I really like, by the way), and reinflated it. It did inflate. I laid on it. I didn't immediately pop. Maybe it would work.
I considered packing up and hiking out. I would have had time. But I did have a very thin closed cell mat, which I could use that night, in case the tape didn't hold. I decided to stay. I had to test it somehow, right?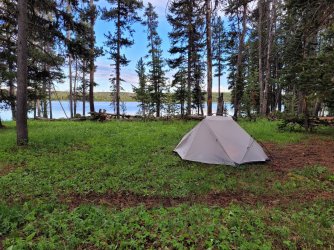 Later, I had visitors.
The lake is theirs, but they don't have to choose to check out the campers or the campsites, and every time I have stayed here, they not only cruise on by, but they stop and look around. I think they're curious. Most animals are always working at finding things to eat. This couple seems to break up their day with checking out the visitors.
Last year, while staying at the lake, the two swans had two cygnets. It would have been within the same time frame, so I wonder if maybe something got their little ones this year. Anyway, they were alone.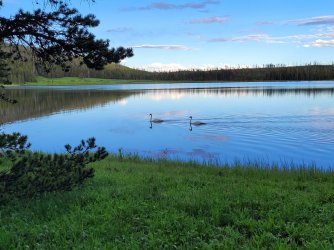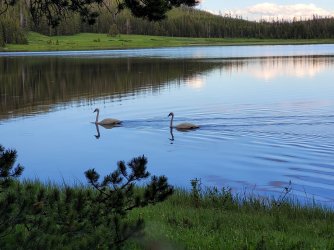 They didn't seem too afraid of my getting close. From what I've heard, they can be very nasty to deal with, but they were on their turf.
The night was uneventful, and the morning dawned sunny and bright. I guess I should say that the sleeping pad leaked a bit, and I had to blow it up a couple of times in the night, but then in the morning, it was still fully inflated. (In fact, I used it again a week later, and it held the whole night on the first inflation. Maybe Tenacious Tape should be renamed Miracle Tape? I had decided to try using it on one night trips in the summer, where I could get my money's worth out of the pad, but not have any bad consequences if it were cold. I found it comfortable, and it is wide, without being super long. I'm (told I'm) short. That's quite debatable… I seem to be the perfect height for me. Most of the wider pads are much longer than I need. The problem there is that the both ends bump the end of the tent. It's ok, but if there's any condensation, your bag ends up getting wet. So I liked the shorter pad, or at least the idea of it. Anyway, I will use the short pad for single night trips, when it's kind of warm.
Oh, and cheap advice—always set up so that when you wake, you get the prettiest view possible. Stars. Lake. Mountain. Whatever. Go for the view.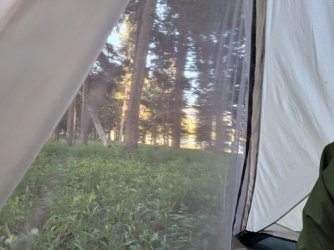 I headed over to the camp kitchen, and was drinking some coffee, when my friends showed up.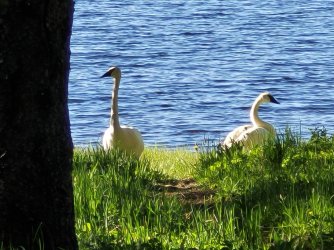 I watched them and drank coffee. They watched me.
After a bit, they swam away. I continued to sit in my Helinox chair and drink coffee.
It was a beautiful morning with emerald grass and bright sun and the lake was a beautiful blue. (Turn your head. You'll see. On my phone it shows right side up.)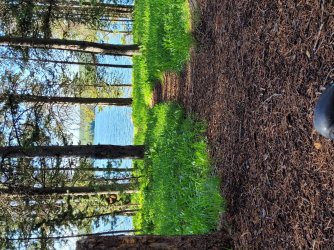 After a little bit, my neighbors came back. They even took a nap on my front lawn. One would look up at me every once in a while, then tuck his/her head back under his/her wing for a bit longer.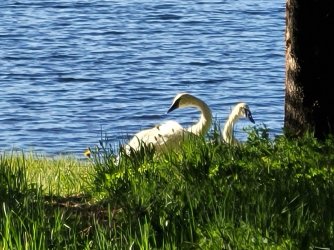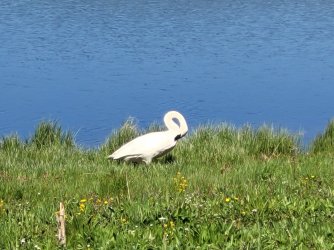 After they left, I walked down to the lake. They had left me a present.
I took the picture, but left the feather. (Federal law, and all.)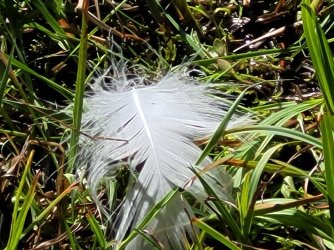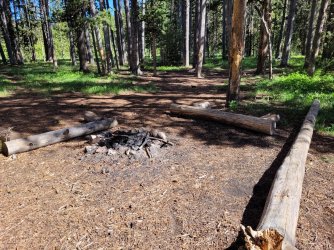 I packed up, and headed back to the trailhead.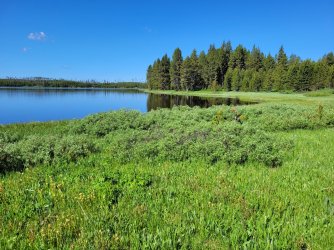 The paintbrush were out.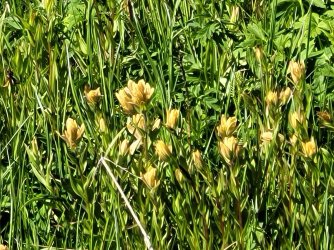 So were the bluebells.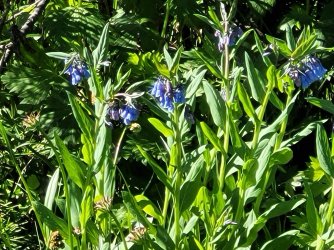 There was a little splashy-splashy to be done.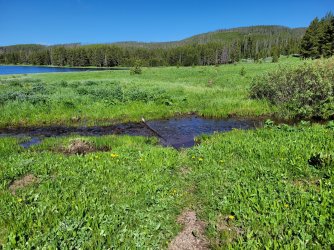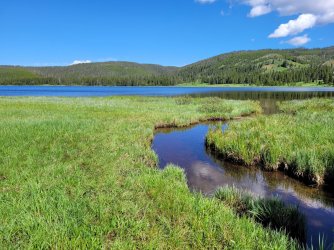 And a look back at the lake.
One. Two. Three. Four. It's good when you can count the clouds on one hand, at least if it's not just one giant cloud.
Can you smell the fresh air?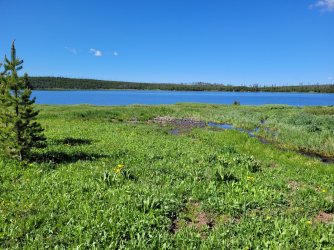 There was a meadow, near the lake. On the way in, I'm always to eager to get to the lake to take a picture of it. On my way out, I want to linger at everything.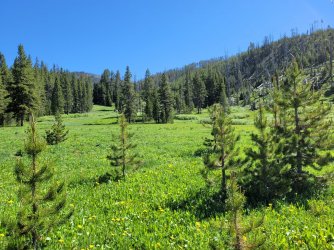 It was a fairly quick trip back to the car, through the logs and open area.
One more campsite to check off the list.
Last edited: