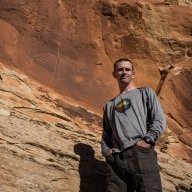 Wildness is a necessity- John Muir
Joined

Jan 4, 2014
Messages

1,099
It was slated to be a crazy weekend. A big cold front was to sweep through Wyoming, dumping rain, dropping temps and possibly laying the first snow of the season in the high country. This in mind... I made the choice to backpack far out instead of dayhike for my second trip to the northern end of the Cloud Peak Wilderness.
When I was called by my supervisor back in February and this position was offered to me I had no idea where and what the Cloud Peak Wilderness was. While I was on the phone with her I did a quick Google and the pictures were of nice enough country to agree to work here. Further searching yielded more views and one location kept popping up: Highland Park. The pictures from there were so epic I just had to get there. Then I looked at a map and saw how it was quite the task for us wilderness rangers to get there and it took a backseat. Until I decided to suck it up and risk the weather to check it out
Day 1
So the first day of my tour saw me hiking the eight miles from Coffeen Park to Highland Park. Not the best option but with the weather forecast it was the one I knew I could drive out of when the time came. Up and down, up and down, then up and up and up. Not my favorite trail for most the way. Sun and drizzle kept fighting for the sky. Lots of forest shielded the views.
Eventually the forest cleared a bit for a couple views towards the west
Lake Geneva sits below this mountain
The trail eventually makes it up toward 10,500ft to pop over into Highland Park so towards the top I finally got that above treeline experience.
Looking south the spires of Blacktooth Mt and adjacent peaks could be seen
Down a gully and back up (woof) I crested the pass and was greeted by some sweet epicness.
Highland is an impressive high elevation plateau that looks right at Blacktooth Mt. With the weather as it was, views of Blacktooth itself were sporadic but the clouds coming out of the lower valley were sweet.
Coming to Highland Park I got the sweet idea to hike down to Lake Kearny Reservoir, outside the wilderness, so I could have a campfire if the weather went super sour. So I set out down the trail hoping for some good camping.
Lake Winnie on a bench below Highland Park
Sadly though, I really disliked the camping options at Kearny. The reservoir was a good bit emptier than full with bad shores and all flat spots were wet as could be. So I hiked back up to Highland Park where I knew it was flat and there'd be no people. What I wasn't sure of was water. I'd seen a pond while up there but figured it was a stagnant rain catch/snow melt thing so was a bit nervous of that. It turns out I was right, it was nasty. I only drank half a Nalgene of that. Hopefully treating it with a filter, steripen, and iodine killed anything. If not, I guess the toilet and I will be good friends in a week or so.
The views were great that afternoon though. So gorgeous.
As I put down my book to fall asleep that night distant thunder rumbled. After half an hour that thunder was right over me with some pretty epic lightning. If some epic rain hadn't been mixed in too the picture opportunities for lightning would have been great. As it was I just fell asleep wondering what the next day had in store.
Day 2
I woke up to low clouds and drizzle. By low clouds I mean all around my camp and Highland Park. I felt like I was in Gorillas in the Mist or something.
Hiking down to the Highland Park Lakes got me below the clouds. The area was nice but I was so happy to not be camped there. Everyone I met that day was camped at Highland Lake itself and the area has been overused and abused. I found the most illegal firerings in one day of my whole season in this area (did that make sense?). While the water being there was nice, I was happy that I'd be carrying mine up the hill later.
Highland Lake- the lake of much use and violations. Quite pretty actually.
Off trail I went to Myrtle Lake- much rockier and less inviting. It also started to rain which didn't help
Then around to Peggy Lake- much prettier than Myrtle (like the name) and it'd stopped raining again
I imagine Peggy Lake would have a great view of Blacktooth with better weather. As it was, Penrose Peak and the Sawtooth Ridge could barely be seen through the clouds.
After circling all these Highland Park Lakes I hiked out the trail to Spear Lake. I need to return to this area in better weather because all the cirques cut into the mountains were too inviting. According to maps there are a lot of lakes tucked back in them too. One group camped at Highland Lake was going to hike Blacktooth by going up one the next day. I doubt that happened.
A spur trail, that looked like the main trail, went to this sweet waterfall coming out below the Sawtooth Ridge
The real trail eventually made it to Spear Lake- a nice little destination tucked in the valley. It'd be nice to have to yourself, potentially way too crowded if not.
I imagine the views up at the mountains would be sweet at Spear too but it was a little cloudy... A bit of trail work saw me back to Highland Park and a wet camp. I pretty much ate food and retreated to the tent as the wet and the cool proceeded to get worse.
Day 3
I woke to a different pitter patter on the tent. Much sharper. The wind was also something nasty. In my long johns, sleeping bag liner and 20* bag I was comfortable but I feared getting out. Sure enough, the rain of yesterday had progressed to snow.
I'm a desert rat born and bred. Snow and freezing temps threw me an interesting loop. My boots and socks were frozen and so was my camelpack hose. Warming up my socks in my sleeping bag yielded very cold wet socks... that I then had to put on my feet and then cram into frozen boots. Forcing my feet into my boots resulted in cramping calves... Fingers going numb meant lots of fumbled gear... Toes dying didn't help much either. Ok they weren't dying but they quickly went beyond that numb phase of being cold and they'd only get warm if I started moving which kept being delayed by me dropping everything and taking two tries to accomplish everything. Of course it was only for fifteen minutes that all this took place but it was a rough fifteen. I was happy to leave when the time came.
Winds up in Highland Park must have been sustained around 40mph. It was knarly. Getting to the other side of the pass and heading down the ridge was much nicer. There the snow floated down instead of blowing sideways. My feet had also warmed up nicely by then. I was almost sad to be leaving because I bet it was gorgeous up there eventually but north end tours are only four days long and I had one task to do before heading to the office the next day.
I noticed this during a tree trimming stop. Very cute
Getting back to the Coffeen Trail a little early I quickly patrolled up to Duncan Lake. No one there but an ok view
On the drive out of Coffeen, as I passed around Park Reservoir I looked south and was greeted by awesome views of the fresh dusting the mountains got.
Zoomed on the cliffs above Cross Creek. The pass I took over to Highland Park is towards the left in the pic
Zoomed in on the mountain peaks between Geneva and Edelman Passes (left half)
Day 4
Before heading into the office on my last day of tour I wanted to make a quick trip to the Paintrock Lakes area to put up a sign we needed put up. Plus I'd never been to the trailheads out there and wanted to see them. Well that turned into an interesting experience in itself. The nasty weather had made the unmaintained three miles of FR17 on private land a muddy bog. I contemplated not going out there, then threw the truck into FWD and went for it. I've never driven in mud that bad but I must say I really enjoyed it. Driving straight while the truck is pointing sideways was a highlight.
I'm pretty sure I was the last person to drive that road for a couple days. I heard on the radio that someone was told to close it shortly after I got back to Highway 14.
So my trip out to Highland Park was not quite as idealic as I had dreamt it would be but it was still pretty darn neat. I definitely plan on visiting it again (although probably not this summer) and next time I'll throw the timetable to the winds and spend more time back there. It's still one of the coolest places in the CPW for sure.
And for kicks and giggles, I close with my tent hanging to dry. The snow that melted in the folded up tent sure resulted in a lot of water in there!
Featured image for home page: