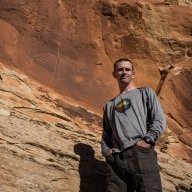 Wildness is a necessity- John Muir
Joined

Jan 4, 2014
Messages

1,099
After hanging out in the heat of Utah for a few days it was time to return to my mountains. I was slated to spend six days on the west side. My first tour in this area was a bit rough, rainy, snowy, thundery, windy. This one was much nicer.
Day 1- 7/16
The first day of my tour I was joined by two of my wilderness co-rangers to pack in our base camp. Finally enough snow had left the area to get it in. That said, a base camp involves a lot of gear and our packs were rough. I left the camera at the truck to retrieve in a couple days to save weight. After getting the camp up through a bit of rain we patrolled Lake Helen to acquaint ourselves with where camping is.
Day 2
Our second day saw us going up trail to Mistymoon Lake and "The Triangle" meadow at the base of Cloud Peak. We then cut across rocky benches behind Mistymoon to the Fortress Lakes and Gunboat Lake before heading back to the trailhead. My fellow pack mules were ready for their weekend and I had plans to day hike the next day from the trailhead.
Day 3
Alone again to patrol I headed up trail 65 to Lost Twin Lakes. The first time I'd tried this hike I got rained on for 6 hours straight, only made it to Mirror Lake (half way) and saw nothing because of low clouds. This time the day was beautiful and I got the whole way. The Lost Twins are certainly in a neat bowl and while the area is popular I ran into only a couple groups. I met everyone the next day...
Middle Tensleep Falls
Views from Mirror Lake
Nice trail views
And the Lost Twins themselves. Pretty spot.
Day 4
The next day I headed back up to Lake Helen. I'd gone overtime a bit the day before so flexed my time a bit to visit a tent city I had heard about at Mistymoon Lake that evening. With summer here the Cloud Peak summiters have arrived. I ran into 54 people that day, over half that camped at Mistymoon. Not very wildernessy. I also gave my first citation of the season up there to a local who blatantly did not register. A note to those that read these TR's and want to visit the CPW: you/your group must register to enter the wilderness and have the brown copy of that registration on you in the wilderness. Don't get a $175 fine and a ruined trip.
Yost Meadows in the morn
Lake Helen
Cloud Peak above Lake Helen
Lake Marian that afternoon
Mistymoon Lake and Cloud Peak
Late afternoon light
Day 5
After so much time patrolling, and seeing so many people the day before, I opted to do a more wildernessy patrol and did a horseshow tour of Bomber Mountain. Named for the B-29 Bomber that crashed into it in the 70's(?) this mountain is a popular destination in the CPW but most just go straight to the bomber debris. I instead went up the southern ridge of the mountain, overlooking Florence Canyon and the Golden Lakes and went across the whole top of the mountain. I had sweet views of Florence Lake, Florence Canyon, the Powell Lake Cirque, the lakes east of Cloud Peak, Cloud Peak itself, and the whole skyline of the wilderness. 12,800 ish ft in elevation. Very boulder but very worth it. I also got to find the bomber for my first time and be amazed by that. Then down a steep boulder slide to the upper reaches of Paintrock Canyon and Mistymoon Lake. Fun stuff.
Fortress Lakes
Gunboat Lake
Florence Lake
And time to go up
Sweet views of Golden Lakes, Florence Canyon and Florence Pass on the way up
Taking this ridge up lead to overlooks of the Powell Lakes Cirque. Very shear.
My "high point" destination that is not the highest peak on the mountain
East towards Cloud Peak Reservoir, Elk Lake and non named lakes. Also, the high point.
From my high point: Cloud Peak
Glacier Lake
Views on the way down
The bomber and assorted views from the area
And my way down. Fairly steep.
Day 6
I hiked out and did my office paperwork. A rainy departure left me with a couple nice pictures.
Now I'm going to rest up, eat way too much, and plan for my first tour to the northern end of the wilderness.
Featured image for home page: