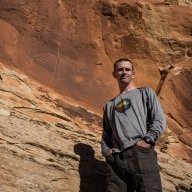 Wildness is a necessity- John Muir
Joined

Jan 4, 2014
Messages

1,099
So finally enough snow has come out of the mountains for me to do my job and patrol the wilderness. And I must say, it was quite the interesting first tour.
My first day I had plans to patrol up trail 65 to Lost Twins Lake and spend the night at Mirror Lake. This did not happen. After 4 hours of non stop rain, and I mean rain, not drizzle, I decided I would rather spend the night dry at the work station nearby. It continued to rain for a few more hours and intermittently into the night so I'm glad I chose to bail on camping.
Before the rain
Some falls on Middle Tensleep Creek
Clouds and rain hide the mountains.
The next day my plan was to patrol up the West Tensleep trail as far as I could. We'd gotten condition reports from visitors saying the snow was nasty and people couldn't even reach Lake Helen, kinda the midpoint of the trail and a major destination. I wanted to see for myself.
The first challenge to this hike isn't even a mile in, and for most of the year is a non issue. With all the snowmelt and rain, West Tensleep Creek is a nasty son of a gun. We'd hiked twice to the official crossing and decided against it, being that a roaring river reaching your butt is not an enjoyable ford. This time I was not going to be stopped so I forded at a point downstream of the crossing. None the less, the creek hit my thighs and nearly dunked me a couple times. Sketchy stuff. I'm amazed at how many people have been doing the official ford! A ten minute off trail walk in the woods saw me back at the trail.
Which was a muddy mess! Being a wilderness ranger, part of my job entails trail work but all the snowmelt makes fixing the trail a nightmare. It took five hours to go the four or so miles to Lake Helen.
Pano at my creek crossing
Yost Meadows
The first waterfall of West Tensleep Creek.
Lake Helen with the middle of the CPW, including Cloud Peak to the north.
The snowbanks started maybe a 1/2 mile downtrail from Lake Helen but was no where near as bad as we'd heard. It'll be gone if we get a good warm week ever. And if storms wouldn't move in and dump fresh snow, like they did this day. It even thundered and lightning'd, a little scary at ~10000 ft but the awesome echoes off the mountains was worth it.
Thunder snowstorm moving in. Cloud Peak is barely visible through the snow.
After spending my lunch huddled under a tree hiding from the snow, I decided to ditch my weight and go as far as I could. My backpack and Pulaski safely hidden from anyone (I saw a lot of people up there for how crummy the weather was!) I set out north. Midway up the lake the snowbanks mostly disappeared and the storm even cleared. In a couple hours I found myself past Marian and Mistymoon Lakes, which we'd been guaranteed not to make it to. Not even hard.
South towards Lake Helen
Coming up to Lake Marian
Arriving at Mistymoon Lake 10,200 feet. Florence Pass (far right), Bomber Mountain (slightly less right) and a cloud covered Cloud Peak (just right of middle) in full view.
A different angle at Mistymoon
I continued on toward the PaintRock Divide, a pass into the PaintRock drainage and the route to Cloud Peak but time stopped me from reaching it. Oh well, I'll have plenty of opportunity to visit that area as the summer progresses.
South down the West Tensleep Drainage. Mistymoon, Marian and Helen visible down canyon.
Pano of the same view
Cloud Peak trying to pop out of its namesake. Still a lot of snow in the way of anyone getting up there. Bomber Mountain is the mass of rock on the right side.
After another night at the work center, I set out for the Battle Park trailhead and Lake Solitude. The weather was slated to be better so I was determined to spend a night out and this longer hike would be good for it.
Lake Solitude sits in the PaintRock Canyon drainage that I could have reached beyond Mistymoon, just a good thousand feet lower. It is the biggest lake in the CPW and was a vital part in the creation of this wilderness (there were folks that wanted to build a dam and flood the whole canyon.) Again more wet and although the weather was "better" a stiff, cold wind blew all day. I set up camp downstream from the lake and continued on up the drainage until it was time to head back to camp. Definitely gorgeous and rugged country.
Elk Mountain above Long Park
Blacktooth, Woolsey, and Cloud Peaks come into view.
The northern reaches of the CPW.
Cloud Peak through the trees.
Grace Lake, just outside the wilderness
Lake Solitude
Pano of Lake Solitude
Waterfall coming down into the trail about mid lake
The head of the lake from the rocky shore
Down the lake
Waterfalls coming out of "Wilderness Basin"
Up PaintRock Canyon
Down PaintRock Canyon from near where I turned around
More view down the canyon, Lake Solitude visible below
On the way back I met my first... confrontational contact of my summer. Oh lets say it as it was, he was an asshole. Part of my job is to contact the public, check they're registered and not breaking regulations, and help them out if they need it. This guy would have none of it and in front of his kids told me that where he was going was "none of my business." Wouldn't even slow down to tell me it either. As a Forest Protection Officer, it dang well is my business but I've been trained to not escalate with someone who is being confrontational, no matter how much I wanted to.
A note to those reading, no matter what your thoughts are on the feds, the employees are not "the feds" and are people just like you. Don't be an ass to us if you don't agree with how things are.
Oh well, I watched his family struggle with a river crossing when if he'd been polite and talked to me I could have helped them navigate it.
That night was a bit chilly but was pleasant enough. The next day I had to be in the office by noon to report on my tour and do paperwork so I booked it out the next morning. It'll be a couple weeks until I'm back on the west side of the wilderness again but I can hardly wait. The area certainly is epic!
Featured image for home page: