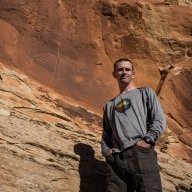 Wildness is a necessity- John Muir
Joined

Jan 4, 2014
Messages

1,099
The weekend of 6.7-8.14 was a mellow one for me. Weather moving through threatened to make accessing the wilderness for a weekend adventure even worse but I still had some fun.
Saturday I went to High Park Lookout just to the south of highway 16 and hung out for 4 hours watching the clouds move over the mountains.
I thought it wouldn't happen but just in the last half hour the clouds lifted off Cloud Peak. I was so giddy! It'll be a fun day when I make it up there.
The storm moved in that night and the morning dawned on fresh snow. I went over to Circle Park to get that fresh snow experience. I love how silent the woods get after a fresh snow. I also love when coyotes start yipping and yodeling all around out of the silence
. I did not want to get wet and cold at a couple river crossings so my adventure wasn't very long but it was nice.
Featured image for home page: