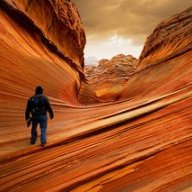 Broadcaster, formerly "ashergrey"
.
Joined

May 5, 2012
Messages

1,724
New Trail Guide up for Sulfur Creek in Capitol Reef National Park. In-depth questions & comments can be posted in this thread.
View Sulfur Creek Trail Guide
[bimg=fleft|300|Sulfur Creek]http://backcountrypost.com/forum/data/attachments/7/7694-b45f6b87af664b6d9f774d6cad2f4d00.jpg[/bimg]
An exceptional point-to-point day hike along the narrow stream bed of Sulphur Creek within Capitol Reef National Park. The route drops into the creek's narrow gorge, following the waterway as it cuts beneath soaring cliffs and tumbles over a series of small waterfalls.
Sulphur Creek is a rarity in Capitol Reef, as it follows a perennial water source through a cool and shady canyon. It can be hiked from the top down or bottom up, though most hikers who complete the entire point-to-point route will do so in the downhill direction.
Read more...