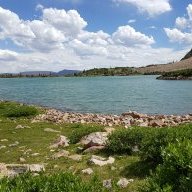 Joined

Aug 8, 2016
Messages

2,071
My brother is coming in to town on Friday and we're looking to do a 3-day/2-night trip in the Uintas. We know it's early but we're willing to give it a go. We had originally planned to see how far we could get into the Red Castle area but that may be a no-go since Elizabeth Pass is still snow bound.

We're probably going to take snowshoes with us so we are okay with travel over the snow. My biggest concerns are flooded trails and stream crossings. Since the East Fork Bear River trail head is accessible we were thinking about a couple of options from there.

1) Head into the Norice/Priord Lake or Allsop Lake drainages.
2) Take the Bear River-Smith Fork trail east and head south on West Fork Blacks Fork into the Dead Horse Lake area.

We kind of expect to not be able to get all the way into any of these end points. If we head over to West Fk Blacks Fork we have to cross the river there so that is a question mark. We've never been in to any of these drainages before and so have no idea of whether or not trails will be flooded out due to proximity to the streams, etc.

Bottom line is we would probably like to be able to get in a fair way and make camp out of the snow then trek up further on day two to explore a bit more. Maybe something like that.

I totally realize this is bad timing but... any suggestions, considerations? Any other routes we should consider?