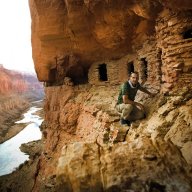 Joined

Feb 5, 2021
Messages

128
I combined a few vague clues in a 30 year-old rock art newsletter, a rough site sketch in a 60 year-old book, and a few hours squinting at satellite images on Google Earth to locate what sounded like a fairly significant but mostly unknown petroglyph site in Western Nevada. It was surveyed in the 1970s and was said to be a hunting site with blinds, stone habitation rings, and rock art on more than 800 different boulders. It was added to the National Register of Historic Places (address restricted) a few years later. After that there seems to be no mention of it.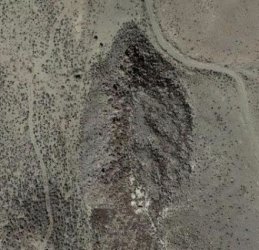 Basalt Ridge with possible habitation site clearings...FROM SPACE!
I drove out there on Saturday to investigate, and after navigating about 15 miles of well-maintained gravel road I got to within a quarter mile of the site. A brief surveillance with my binoculars failed to turn anything up, and a quick walk up and down the road didn't reveal any trails…I began to worry that I might not be in the correct location.
Undeterred, I rock-hopped across a small stream, plunged into the brush and made my way towards the boulder-strewn ridgeline.
Once there it didn't take long to confirm that I was in the right spot. The rock walls of this hunting blind was the first thing I spotted.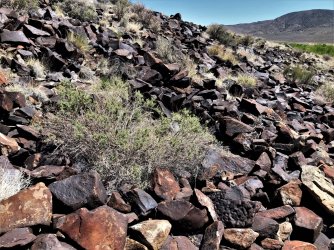 That was quickly followed by petroglyphs…lots and lots of petroglyphs.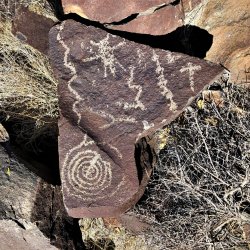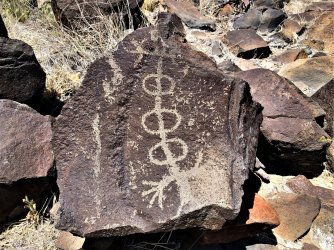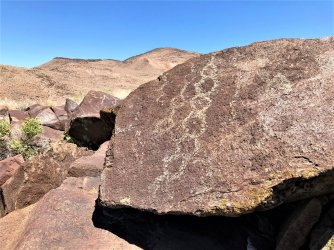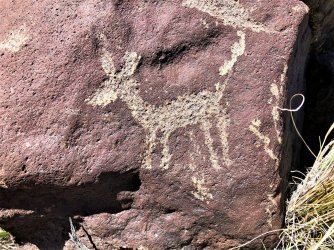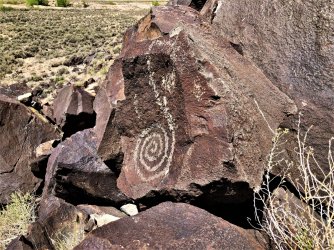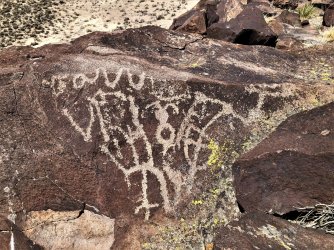 Once up on the ridge I reached the stone circles I was able to see from the satellite images.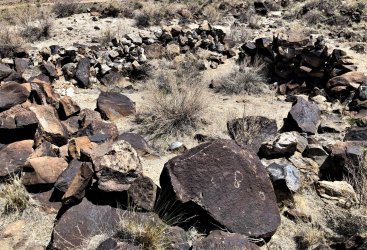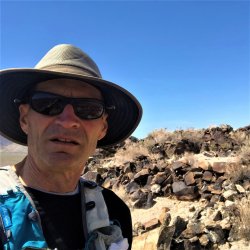 There was more rock art to be found, and I'm sure I missed quite a few. Some of them were quite unusual, like this large (3') leaf/plant glyph: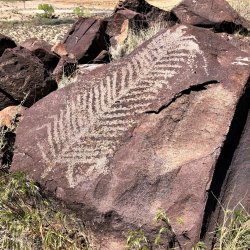 This one looked to me like a deer that was splayed out and about to be butchered: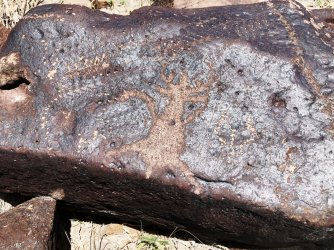 Bighorn sheep are commonly depicted in rock art, but it's unusual to see them depicted in this "head-on" three dimensional manner: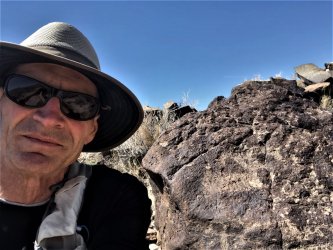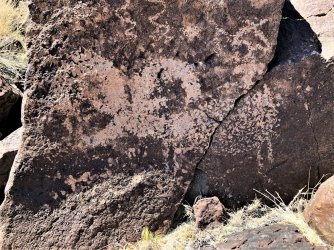 While it wasn't the most elaborate rock art I've ever seen, the "cool factor" was top notch. I wouldn't see a single footprint other than my own all afternoon, so successfully solving the location riddle brought a certain sense of accomplishment. All I could think about as I admired their work was how incredibly fortunate I was to be having this experience. The ancient hunters had pecked these stones to record and celebrate their successful hunts, and I was feeling a little of that same satisfaction.