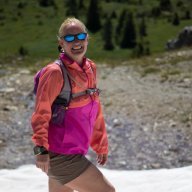 Joined

Dec 30, 2015
Messages

194
So I did my first ever overnight in winter. Well winter outside of Florida. lol.

1) How do you get the tent stakes in the ground when it's frozen? I could only get them in about 1-2 inches and that was with a hammer! I found a couple good size rocks to help hold the tent lines. Is there a secret? what if there aren't any rocks around?

2) Do bic lighters fail in really cold weather? My lighter would not flame despite many, many attempts. I put it in my pocket and when i got home it worked fine? It was 20F with wind. But i even tried protecting it form the wind and still wound't catch. Lucky for me I had some back up matches.

3) My stove canister froze to the ground. After boiling water for dinner and hot chocolate I let the stove cool. When i went to pick it up it was solidly frozen to the ground. I was able to kick it loose with my boot finally. Tricks or tips?

any other tips or tricks for winter camping?