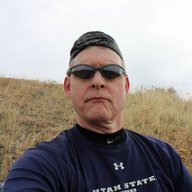 Joined

Dec 23, 2013
Messages

1,992
On our way back from Portland, we decided to check out the Strawberry Mountain Wilderness, which is located just south of Prairie City in Oregon. Our original intentions were to stay over for two nights at Strawberry Lake and on the second day hike to the top of Strawberry Mountain. Unfortunately, it began to rain just after midnight and did not let up. We stuck it out in our tent that morning until 10:00 am and then decided to pack up and head back home. I'll have to try and get the summit in, and more exploration of the wilderness area, next year. Here are some shots of our trip.
Wilderness information Sign
Trailhead
The Strawberry Basin Trail sign
Entering the Strawberry Mountain Wilderness
A look back down into the valley where Prairie City and John Day are located
Trail junction - this trail leads to Slide Basin
Getting closer to the lake
Strawberry Lake Trail
View from the trail
Moseying along
View from the trail
No fires allowed.
First view of the lake
Strawberry Lake with Indian Spring Butte and Rabbit Ears in the distance
Strawberry Lake
This trail junctions leads to Little Strawberry Lake, Strawberry Falls and the Summit of Strawberry Mountain
Our campsite
Dinner and a nice view
If you look closely, you can see an Osprey (white spot) perched in the top of the tree. We watched him for a long time after we ate our dinner
On our way out
Clouds lifting a little bit over the lake
Moss
A look back at the cloud covered Strawberry Range
John Day River Country