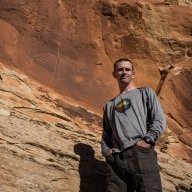 Wildness is a necessity- John Muir
Joined

Jan 4, 2014
Messages

940
Trip Reports

75
Likes

3,593
7.11.2017
The forecast wasn't good at all. According to NOAA, a high amount of moist air was coming into the area, resulting in greater monsoon action. Monsoon means violent, isolated, quick thunderstorms right? Surely I wasn't going to have another weekend stolen from me, this one by simple weather! I'd arrive and assess after the drive...
My target was Brown Duck Basin in the Uinta Mountains. It seemed to be the closest trailhead to Moab with high alpine lakes not too far from it. I had meant to visit here on my previous set of days off, but just south of Wellington had discovered my wallet was still at home, luckily before I needed it. I knew I would be out of shape, and thus had diverted plans to Boulder Mountain. That said, I had been jonesing to spend some time with a big pack on my back for a few weekends and I really didn't want to miss another one.
I arrived in the Uinta Valley to bright skies overhead and nastiness due north. I could only guess the mountains were there, as only the foothills were all that visible. Assessing... still driving. My basin was on the very edge of the wilderness, really hardly in there. Surely that would mean it is mellower... Arriving at Moon Lake, sure enough I was right on the border of storm and clear. Monsoonal storms break down quickly right? That was my memory. Plus I really wanted to get out!! I needed it!
I've had this happen before, when I was scared ****less in Alaska's Valley of 10,000 Smokes.
Sure enough, it wasn't ten minutes into the hike when the first raindrops fell. Rain was no biggy, I had rain gear, spent plenty of time in the damp. Well, when it turned into an hour long downpour I wasn't so happy. This was way more than my rain gear liked, being older it has lost some waterproofing, crap getting wet in rain gear is lame. Turn around? But I wanted it. Was I going to let nonsense weather turn me away from every trip this summer?? I'd been paid to go backpacking in the rain with the USFS and skoffed at those that for some reason still backpacked just for fun. Was I one of those people?
Yeah, I was.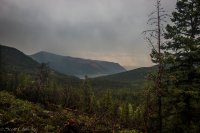 Looking back towards Moon Lake in a brief deluge respite.

The going was dreadfully slow. It's been months since I had put a fifth of my body weight on my back and now I was doing it at high elevation with nasty slope?! I was huffing and a puffing. Hours of rain passed. Occasionally I would stop under a semi-sheltering spruce, racing along when the rain would let up. Lightning flashed all around, thunder rocked the eardrums. I never felt in danger with the tall trees and canyon walls, but I kept feeling like my vision freaked out whenever there was a big flash/bang.

After hours of hiking, I finally made it to Brown Duck Lake.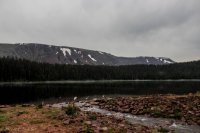 Brown Duck Lake looked really pleasant, and I was seriously eyeballing the opposite shore when a smell hit my nose. Fire. Grr. They're illegal here, WTF!? I crossed the outlet and quickly met the culprits. A group easily at if not beyond the size limit for the High Uintas Wilderness, camped in a huge group just off the trail right by the lake, also doubly illegal with a huge fire. I was infuriated. No way was I going to stay by this, lest I lose it in their din and spread their fire into their tents. Disgusts me, people whose experience is worth more than everyone else's and the law. I don't like writing tickets, but I'd have slapped a couple on this group quickly if I were the local authority.

Luckily, Island Lake was just down the trail by another fifteen/twenty minutes and totally deserted. The storm was having a brief lull, so I quickly crossed the outlet, found a spot that was clearly regularly used, and settled into trying to see if I could warm up.

Island Lake, all gloomy on first sight.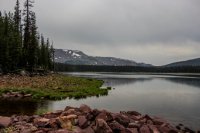 Thing's weren't too good in the tent. My rain cover had done valiantly against the deluge, but alas was beaten out. My pack's brain was damp, damaging the book I had borrowed from the park library "House of Rain" by Craig Childs. Dang! That wasn't mine to ruin! At least the phone looked ok and nothing else in there cared about getting wet. Rifling through my pack the news got much worse. My sleeping bag had gotten damp. I don't know why the bottom of my pack got so hit, but it wasn't great. The stuffing of my bag meant about half of it was damp. Down doesn't work well when wet... Yick. Well, I had a lot of layers, I could survive a night if need be. Leave in the morning. That would be a bummer but what could I do? The bag was wet!

What was that? The pitter patter had stopped. Light on the vestibule?

Sure enough, the rain had stopped and the sun was popping through layers of cloud in the distance. Woo! They were just "afternoon" storms! Like all that time but the evening looked like it could do ok.

Clearing conditions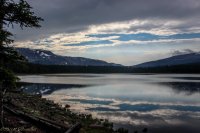 With the rain abated, the atmosphere completely calmed. Fish, likely having been inactive during the storm started to rise to the surface one after the other. Where was my rod!? Sure enough, it was Cutthroat Trout after Cutthroat Trout.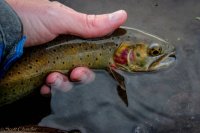 Eventually the fishing couldn't keep me from the sunset though.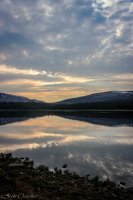 It was a little humid and I kept having to deal with a fogging lens.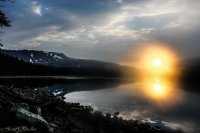 But it was pretty manageable. And extremely glorious.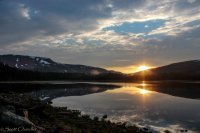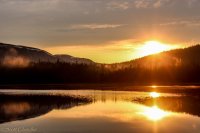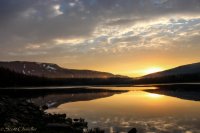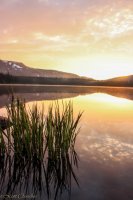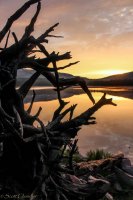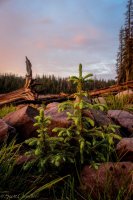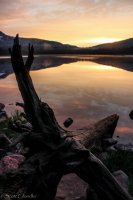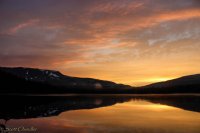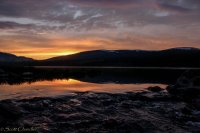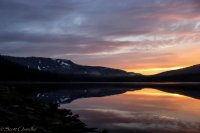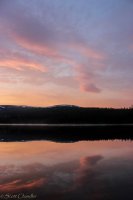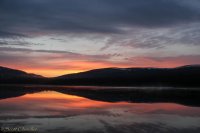 The night turned out just fine to be honest. My toes were a bit chilly, but nothing worse than I'd had before. Apparently the bag wasn't too wet. The morning dawned beautiful and nice as could be. If I didn't know the forecast for more nasty storming I'd have thought it would be the best of days for copious hiking. As it was, I still wanted to get some adventure before the storms built, so I headed for Brown Duck Mountain. Let's see how far up I could get!

So clear.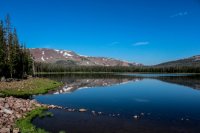 Just down the trail was Kidney Lake. Really big in my opinion, but clearly bigger at one point. The dams up here really intrigued me.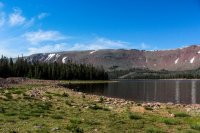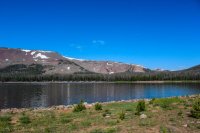 Going towards Tworoose Pass, I popped off the trail at a ridge like point and started trekking up Brown Duck. The elevation hit me like a brick but in all honesty the going wasn't bad. Even the boulderfields weren't too bad. Especially since Columbines liked the boulderfields.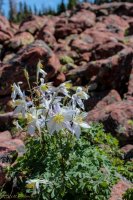 It was sweet getting back to treeline country and watching the forest shrink. Looking over Tworoose Pass westward.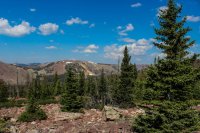 Looking back into Brown Duck Basin. I was camped by the left lake.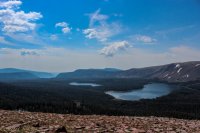 Eventually I hit the ground type where soil fit between boulders, making walking easier and flowers prevalent. See them?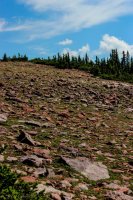 The Paintbrush were pretty awesome. I haven't seen them in this concentration in a long time.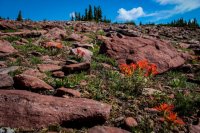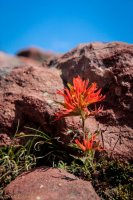 Clouds were forming like nuts though, quickly showing me that I wouldn't make it all the way to the top of Brown Duck. Hopefully I could get high enough to at least see more than the ridge in front of me.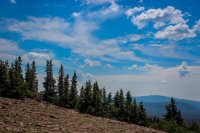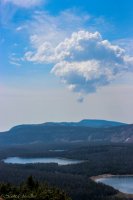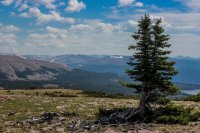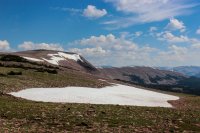 Eventually I ran into a tall rock pile. I decided it was a fine place to stop, enjoy the views and thin air, and eventually turn back.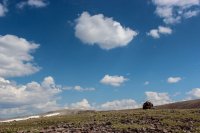 The view to the head of Rock Creek was quite spectacular. It is a ways back there, but I sure would like to find to see that country.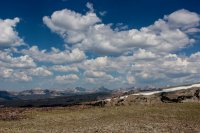 Looking east was pretty neat too. I may have seen King's Peak? Who knows. Everything looked really tall.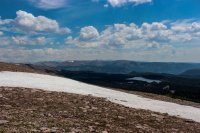 As you can see though, the clouds were building, so I went back to try and get to Island Lake before the lightning flew!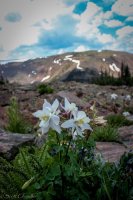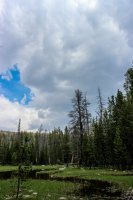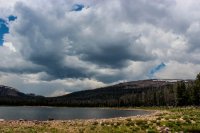 I got back to Island Lake just in time. Within ten minutes of getting into my tent the sky opened up. Thus ensued an afternoon of napping and reading. It beat being in the heat of Moab by leaps and bounds.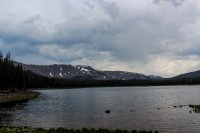 Startling from some napping, I saw some light on the tent and got excited for another sunset. It was windier, so the reflections weren't as good, but the sunset also had a very different character. I love sunsets.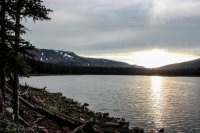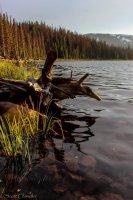 Anyone know the story behind all the logs on the shore of the lake? There are so many and they are so big! Remains from the flooding of the dam which is now breached?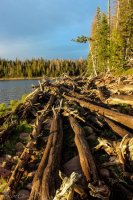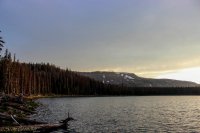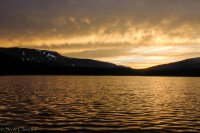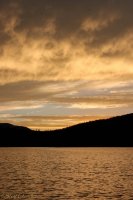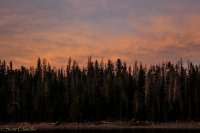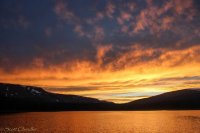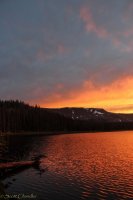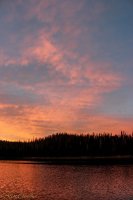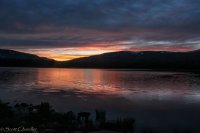 The next day dawned glorious again. I figured storming was in the future again and wanted to get out of there before I had to get wet again, but a bubbling lake tempted me into some more fishing. After a few spunky Cutthroat I gave the good old "one more and I'm done" declaration and proceeded to hook onto a Brook Trout! An unexpected surprise that was quite nice. I haven't caught too many of them in my life and their coloration always intrigues me. Clearly built for different water than the cutthroat.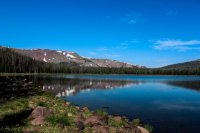 Hiking out sure was exciting! With all the weight and gravity helping I flew down the mountain! I got down to the bottom right as the thunder started to go. Driving out I was reminded of what it looked like when I drove in. Ha ha, the things we do for a recharge. Quite the fun couple of days.