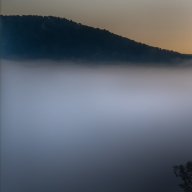 Joined

May 19, 2012
Messages

1,834
In January of last year a fellow artist and I decided to submit a proposal to the R2 Gallery at the Launchpad in Carbondale. My partner Alice Bedard-Voorhees is a mixed media artist, using an iPhone as a base for her work that includes some rather complex iterations, including a process called Chine colle. After our backpack in Grand Gulch last fall we really coalesced around some concepts. I won't recount that trip, you can view it here -
https://backcountrypost.com/threads/grand-gulch-11-13-20.9496/
. Out of that trip we knew where the show was headed. We visited Big Man, I ended up only using one shot from there. Most of the images we ended up using were from a hand print panel I had seen years ago.
As an aside, I decided to print the show on an organic bamboo Washi type paper made by Awagami in Japan. It has incredible texture, very soft, yet able to hold detail and saturated colors. If you like to print your own work I highly recommend it. Affordable too!
So, our show opened on April 2nd, and will close this Thursday. If you are in the area, I will be there on Thursday around 4 p.m., it would be fun to see some BCPers.
From the R2 Gallery web site, a description of the show:
https://www.carbondalearts.com/current/stone-souls-2021
This is an interview of Alice and I on our local radio station KDNK, I was petrified, so go easy on me. It starts at the 26 minute mark:
https://www.kdnk.org/post/express-yourself-previews-opening-stone-souls
My shot from Horseshoe Canyon:
Alice's piece from a panel not far from Big Man:
My shot from Dominguez Canyon:
Thanks for looking.
Last edited: