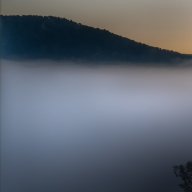 Joined

May 19, 2012
Messages

1,973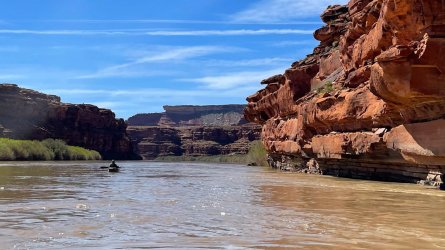 A few days before our put in at Mineral Bottom for a trip through Stillwater Canyon, I was talking to a friend of mine about the trip, he asked if I had seen the the flow on the Green further upstream? No I said. Sure enough, while I had been watching the flow at Mineral Bottom, which had been at 4K cfs, the Green in Wyoming snuck up to 16K while I wasn't looking. Well, this was not going to be the paddle that I had hoped for. It meant that we had to spend less time on the river, do some hikes and hang out on a rock.
This trip was a follow up with a friend from Telluride, after our trip in November down Meander Canyon, that was sort of a challenge:
We originally were going to do this trip a week earlier, then I had the bright idea of changing our put in date so we could take Tex's Riverways last boat of the season on October 25th, something I have wanted to do. As our put in date on Saturday the 22nd loomed, things were not looking good...
So, the Green was projected to be at 15K cfs on our put in day. The biggest water I had been on was 10K in 2017 on this stretch, so I figured I had some experience that would be beneficial, but I quickly realized that the extra 5K is a lot different. I guess that goes without saying but I just had to say it. Plus, I am really not that good of a boatman. I prefer a leisurely paddle with sun, beer and having lunch on a sandbar. I knew that landing the boat with this much water would be problematic for me. We knew the mud was going to be pretty bad, so we were prepared, sort of.
We decided that we would take advantage of the high water and make our camps not on the River, but up side canyons. That was the plan, as it eliminated the landing on the River, and we could get out and spend time hiking and exploring. I have not done a lot of canyon hiking here, mainly because I usually have a difficult time getting through the muck to access the side canyon, and I tend to prefer not doing that, if I can avoid it. So paddling up the side canyon sounded appealing to us.
On put in day, we were dropped off at Mineral Bottom, with two other parties of 4, and one solo canoeist with a beautiful hand made boat and his beautiful 14 year old white lab, laying in the bow with his head resting on the gunnel. I asked him how he was able to do this trip with his dog, he said that he is a service dog and Tex's allowed it. Nice.
It was windy, consistently 25 mph with 50 mph gusts, well into the evening. Even a windy day is a good day on a river. But 50 mph is like getting hit with a train, as many of you know, you can see it coming at you but all you want to do is get oriented right (and wish you were closer to shore) and hold on!. Another concern, was all of the boiling going on, seemingly everywhere. Getting hit with a headwind when a large one erupts under your boat is exhilarating, and problematic. Luckily it happened only a couple of times, so I was diligent in avoiding these disturbances.
We had made about 6 miles when we arrived at Horsethief Canyon, We paddled up the creek about 300' and found a great camp spot:
View attachment 120434
An added bonus, a little rock art: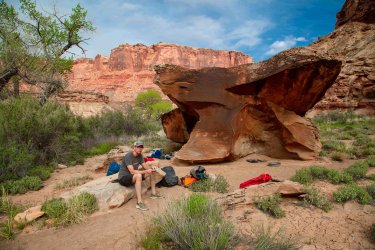 Que Jaws theme music: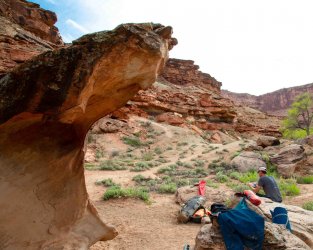 Scary: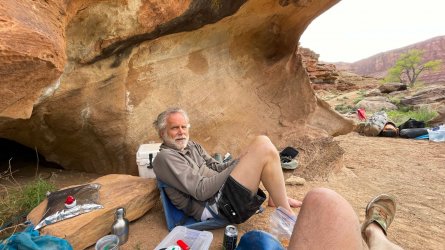 View showing our home for the night and the Green beyond: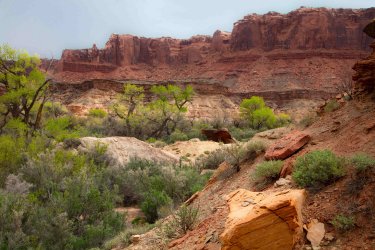 I was really looking forward to some canyon walking, so after the wind died down we headed up Horsethief a few miles. Big canyon, and quite beautifu: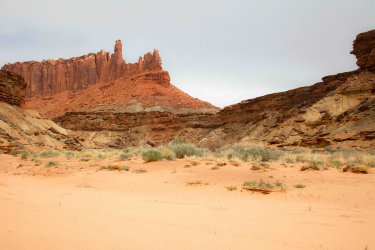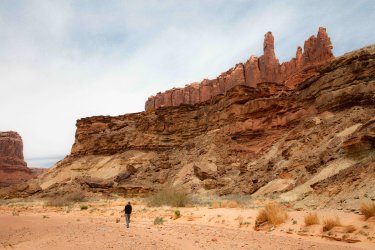 We did not break camp until about noon, such a nice spot. The wind started to pick up, but it did not really bother us.
I don't have any shots on our paddle this day. Not on purpose, it was just too beautiful to try to photograph. A camera can be a big distraction.
We arrived at Beaver Bottom, someone with a sense of humor named it that.
The camp spots were getting better and better, if that was possible.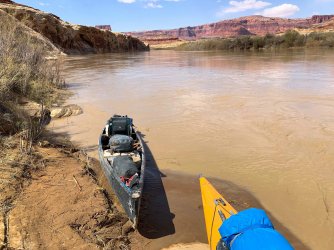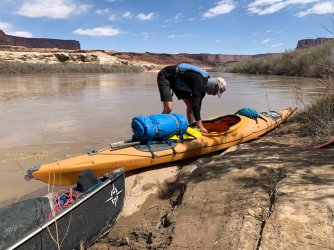 I really liked this place, located in a wide section of the Canyon with easy access to the surrounding terrain. The White Rim Trail is over to the right: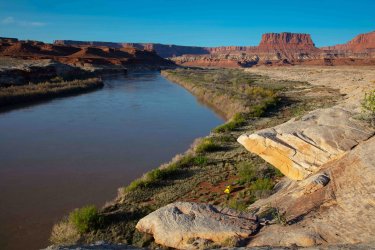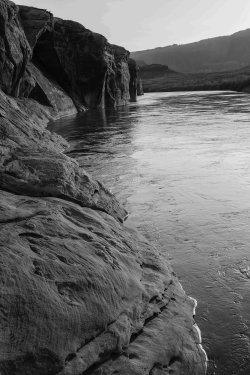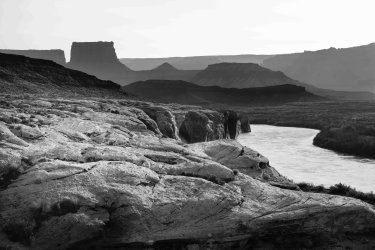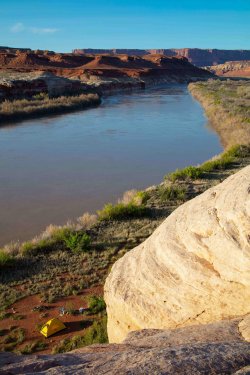 Sadly the last trip for my trusted Bibler I-Tent, it has been a good friend, bomber, never leaked, withstood anything that was thrown at it. But alas, the zippers no longer work.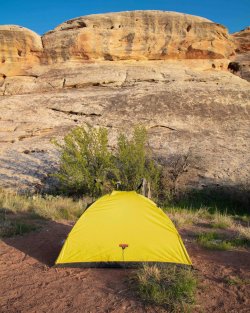 Back on the River, our third day on the water, headed for Deadhorse Canyon. This will leave us 20 miles on the last day to get to the Confluence.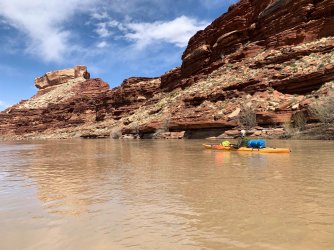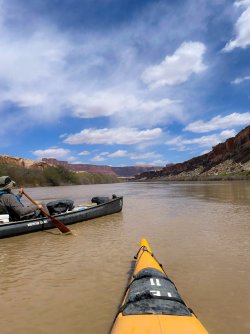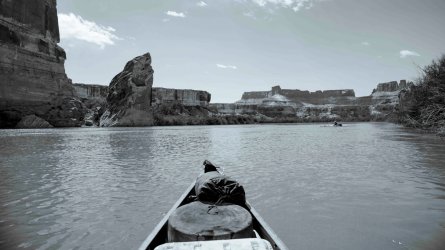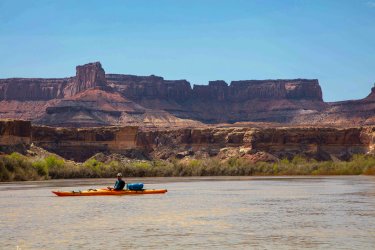 Deadhorse Canyon was another one we paddled up. This time we found another group at the end where the water ended. They were very nice, knew it was late in the day, and said we were welcome to camp. We found a spot a couple hundred yards up canyon in the sand under a big cottonwood.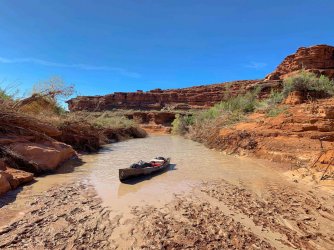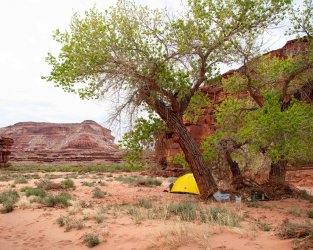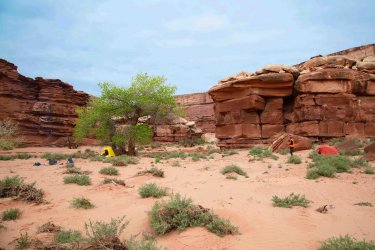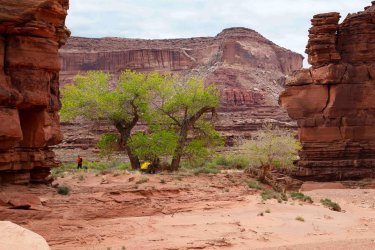 I would have loved to hike up this canyon but the wind picked up again, throwing sand around, so we hunkered down in our tents until it stopped, just like that. Typical.
So, the last leg, 20 miles to the Confluence.
Paddling out Deadhorse: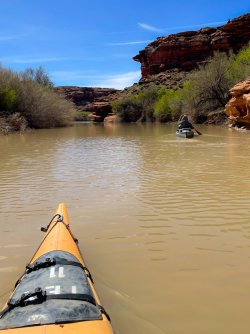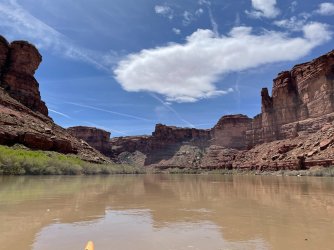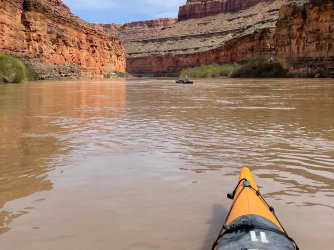 The Confluence! A good respectable 20 mile day.
So far on the trip we have seen only the people we put in with, an entirely unique experience on this stretch of River. Usually it's dog eat dog, hand to hand combat to get a camp spot. Not this trip.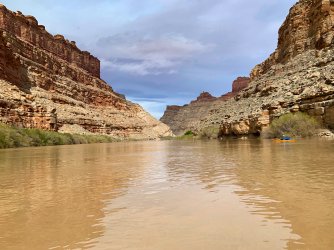 We cxamped at a fairly small campsite about a mile below the Confluence. A great spot with perfect access for Tex's jet boat, which I am always careful about. It's not good form to make the guys from Tex's waste time because people don't think about access for the jet boat, or to clean their boat and gear. Sorry for the rant.
There were two other parties here when we pulled up, and we were welcomed. It was fun hanging out with complete strangers in this place. A great way to end this trip. Thanks for looking.