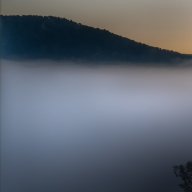 Joined

May 19, 2012
Messages

1,941
For the upper portion of the Green, here is a link to our Labyrinth Canyon trip:
http://backcountrypost.com/forum/threads/labyrinth-canyon-10-4-12.1414/#post-15260
Well, another river to float. This trip was much anticipated, as we had heard this section of the Green was the most beautiful in the Canyonlands. Mother nature however, in her infinite wisdom decided to wash out the Mineral Bottom road a few weeks before our trip. The company we usually use for the jet boat said they would not bring their trucks down Spring Canyon, the closest canyon to Mineral bottom that had a road going down it. The problem with Spring Canyon is that it is 68 river miles from the confluence, 16 miles further to the confluence than Mineral Bottom, and we only had three days to do it in. So we called another jet boat company, and they said, sure, we will take you down Spring Canyon!
So we bust our ass getting to Moab, leaving way too early in the morning as far as I was concerned. We were headed for the back of beyond and we were stoked. We knew we would have to work hard to go 68 miles in 3 days, but hey, who cares? Reality quickly set in, though. We would have to be at the confluence to meet the boat, or wait for the next one 2 days later!
So we are near the rim of Spring Canyon and our driver stops his truck, to let a pickup truck pass us. No problem. Then he shuts his engine off. Big problem. What the f#@ck are you doing? He explains to us that we now have to wait for the guy in the pickup to go down and come back up, because how skinny the road is! We immediately order him to proceed, and he refuses. We hurl insults, question his masculinity, parentage etc. Nothing would get him to move his frickin truck. So here we are, sitting there getting really pissed off. We decide to walk down the road, because I was ready to bash the driver over the head with my paddle, which at this point should have been in the Green River.
View down Spring Canyon, it was a spectacular walk:
We waited at the bottom of this canyon for 2 hours, and finally the guy our driver let by drives back up the road. A half hour later our ass wipe driver shows up with our boats and we are in the water!
Then the wind starts up, yet we made pretty good progress, maybe 18 miles.
I did not feel like getting the camera out, as we had a long way to go, and when I stopped paddling (to get the camera out) the boat would swing sideways.
It didn't matter. We were on a river! If we had to wait due to the wind an extra 2 days (if we missed our boat) at the confluence then so be it. There are worse things in life. We would have to fast because we did not have enough food to last an extra 2 days, but we had enough beer and tequila!
I believe this is Tower Park:
This is one of the most beautiful little ruins I have ever seen.
There was no way up to it.
It just seemed to fit right in, like an extension of the landscape:
The morning was great, until about 12, then the wind picked up and it rained, hard. Like horizontal rain. It was a lot of work. The camera stayed in the bag.
Another beautiful spot to camp. We were exhausted, but it did clear for the sunset. Then it rained again, and we had to eat in between showers.
Then it cleared again, then it rained the rest of the night:
The following morning was beautiful, but we had almost 20 miles to do by noon, our pick up time.
I had very little time for photography.
But it was glassy all the way to the confluence.
We made it with about 30 minutes to spare. Just enough time to clean the boats and organize the gear.
Even not so good river trips are great.
Featured image for home page: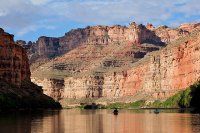 Last edited: