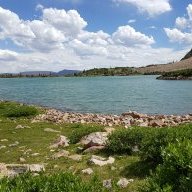 Joined

Aug 8, 2016
Messages

2,069
I am a total novice at identifying flora and fauna but am eager to learn. Many times we don't see animals in the back country but often they leave behind their scat. We have many members who might be professional wildlife biologists or at least know their sh*t.
@scatman
may be one of them, hrm. So, I thought it might be educational to have a thread where we could post pictures of scat to be identified by our highly qualified scat scan crew in hopes to provide a way for us novices to learn more about our environment.
Along with posting pictures it might be helpful to post details about the location, elevation, time of year, etc. to aid in accurate identification. I'll defer to our scat scan crew for exactly what details would be most helpful.
So, I'll go first. I'm fairly sure the picture below is from a mule deer. It was taken in late October in the Wasatch Mountains at approximately 6,000 ft. The 72mm lens cap added for scale. Can we get confirmation from the Crew?