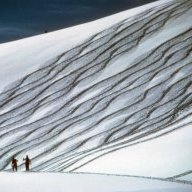 Joined

Oct 17, 2012
Messages

367
I started a yearly ski tour across Rabbit Ears pass on St Patty's day for one main reason. I celebrate my birthday on this day. Many people like to party on this day too. So.... Since I know a lot of these people and my b-day is going on. I thought.. at least we can get a nice ski across the pass and somewhat limit the drinking until we get across the 7 miles and back to the ski area. Little did I know (years ago) that it would become a small cult following.
Expectations were high for well over 20 people to join the march. The reality was, that 9 of us hearty souls went on a day that had many worried about the day's forecast. Most thought it was going to be a wee bit too nasty for this to be much of an enjoyable ski. High winds and snow. You can't have everything now, can you? We had a friend from Alpine Taxi take us up to the pass in one of the shuttles, so no one would have to retrieve a vehicle later. Dressed in Hawaiian shirts, hidden under our hooded shells, we took off across the pass. Much to our delight, 2-3 new inches of snow had carpeted the pass making the kick and glide a joy. None of this baked crunch, we figured we would start on. It turned into a pretty casual crossing with a few stops for food and .... you guessed it, an Irish car bomb or 2 and lighten the beer load. The crossing was successful with no known casualties.
A most excellent day despite a little wind and snow. My wife capped it all off with a surprise party down at the base. I some how survived another St Patty's B-day. Thank god there is only one of these a year!! The brutality!!
The last 3 pictures are in the igloo just out of bounds of the ski area. An excellent ski tour!!
Featured image for home page: