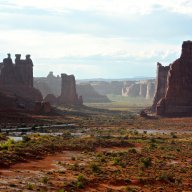 Joined

Nov 26, 2015
Messages

123
1st time poster long time lover of this website.
Our annual Spring Break trip was coming soon and our usual destination of south-central Utah was looking real wet and cool.....My daughter said, "What about Death Valley?" But even DV was getting hammered with rain and flash floods. Eventually we settled on a couple of days exploring the canyons of Red Rocks near Las Wages and a week in the Mojave National Preserve in California. We had been to MNP a number of times but the Preserve is so huge and there is always so many new areas in the Preserve to explore. They also had a wet few weeks from January to March but they do not have the evil mud of Utah.
Here are a few of the highlights from our trip.......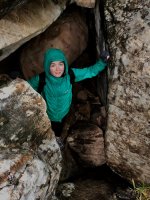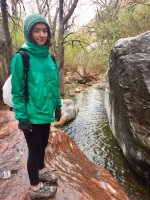 The canyons we explored at Red Rocks were a wee bit wet but the scrambling was awesome and there was more running water back in those canyons than I have ever seen. Seems the rain scared away all the local population which suited us real well.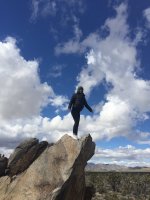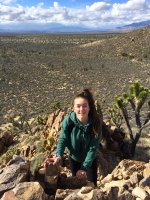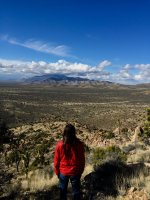 We spent a couple of days exploring around the Kessler Peak area and climbing Kessler Peak. A sea of Joshua Trees, a few Green Junipers, and more cacti than I could ever count.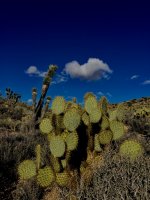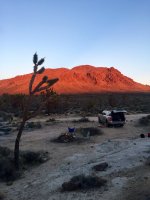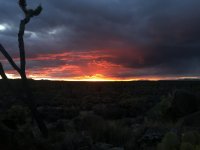 A purrfect campsite with the sun setting on the peak we climbed the next day.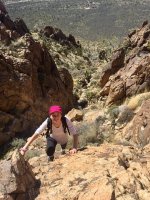 Heading up Kessler Peak......The scrambling was super fun and my daughter was digging it.
The next few days we spent exploring in and around the Granite Mountains and the Dunes we saved for dessert.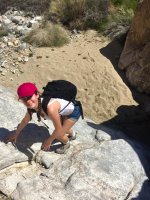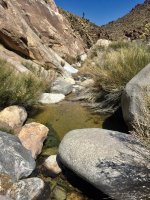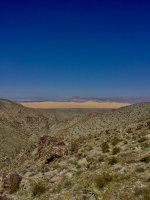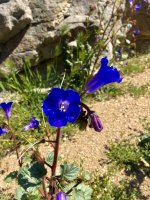 The 1st canyon we explored was truly exceptional. It took some 5th class climbing and 8Km of cross-country hiking where we were scraped and poked by all manner of thorny spiky plants. So much running water and so many birds and blooms made this canyon a highlight of our trip to the Mojave Preserve.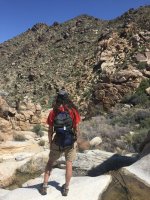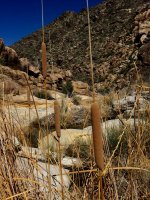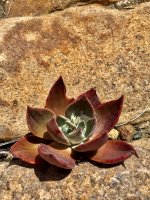 We even came across Cat-Tails and what I think is some variety of succulent (Have never seen one of these in the Mojave before).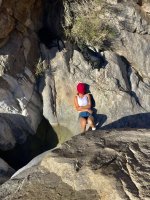 We decided to enjoy the last of the water and have a little nap before the long journey back to camp.
Then it was off to the southern part of the Granite Mountains for a few days.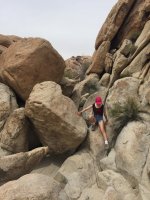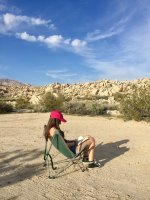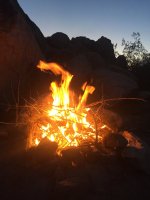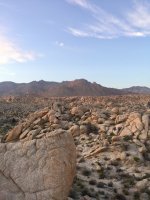 The southern Granite's are a wonderful maze where getting lost would be all too easy.......Saw many rabbits and heard a few coyotes.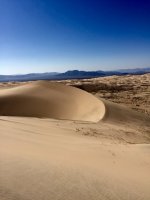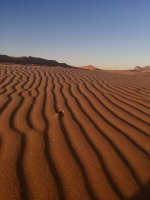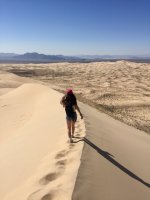 Next stop was some Dune wandering a little more off the beaten Dune Path.......So many animal tracks and an amazing sunset to cap off an awesome day.
After a couple of days in the Dunes we had one last canyon to check out......We found more water, plenty of blooms and some cool cacti.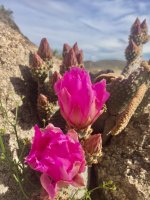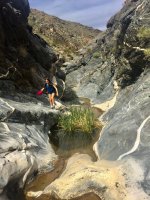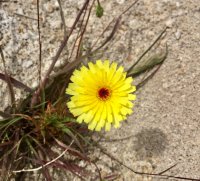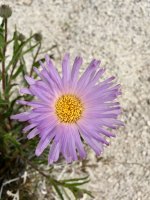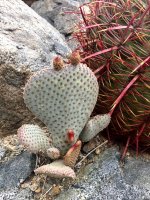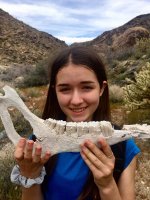 Many skulls were found in this canyon........These chompers are rather large.....Bighorn Sheep definitely love this canyon.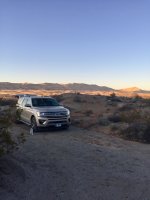 Our basecamp for a few days........Saw one person in the three days we spent exploring the area.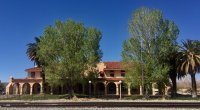 No visit to the Preserve is complete without a stop at the Kelso Station.....Such wonderful helpful staff.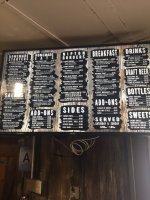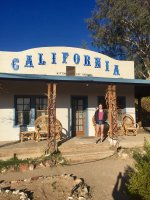 Our last night at the Preserve we grabbed dinner at the newly fixed up cafe in Nipton.....Wonderful food and an impressive menu.
You can never go wrong with a visit to the Mojave National Preserve.
Last edited: