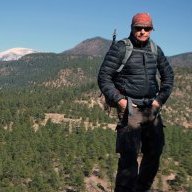 Joined

Aug 19, 2016
Messages

459
I like to find it myself. The research, the talking to locals, the coming up empty, are all just dandy for me. When you close in on the goal, it makes it that much better. After all, you see a lot of neat stuff out there while you were looking for something else. I had spent years trying to find "The Hitchhiker" when I find out that Kelsey gave it away in his latest ..."Exploring Canyonlands National Park" edition. It's on the cover no less!

I'm all for freedom of speech and all the constitutional but it riles me when someone publishes on the Interweb or in written material the exact location of these precious and rare resources. Recently I found the location of a Barrier Canyon site I was looking for in the wrong way. Oh great, how long before you see bullet holes or tags on it. I hope it isn't messed up before I get there or after. If you care any more about it, it's name is "Unexpected Panel".

I wish people would exercise better judgement.