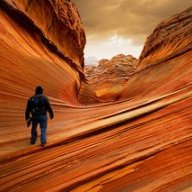 Broadcaster, formerly "ashergrey"
.
Joined

May 5, 2012
Messages

1,724
During the summer of 2017, I canceled a planned trip to Glacier NP hours before my scheduled departure. My cat had been diagnosed with cancer and was in need of intensive care. I told myself I'd make good on those plans in 2018.
However, in March of 2018, the Glacier permit application system crashed in the opening seconds of availability. A FOIA request later, I discovered I was one of several hundred applicants who had their permit requests unfairly rejected due to the system failure.
So, needless to say, expectations were not high for 2019. I put in anyway last March, hoping the third try would be the proverbial charm.
The results of my 2019 permit application were a mixed bag. The ambitious loop route I'd put in for (and actually secured in 2017) was rejected. However, a fallback itinerary was approved. It was a point-to-point for two from Jackson Glacier Overlook to Sperry Trail, with two nights in the backcountry: the first at Gunsight Lake on Aug. 23 and the second at Lake Ellen Wilson on Aug. 24.
I was also lucky enough to score a campsite over the summer for a spot at the Fish Creek campground the night prior to our start. My sister and I flew up to Kalispell on Aug. 22, grabbed a rental car and headed into the park.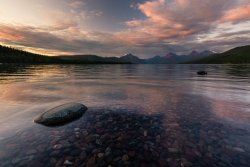 Lake McDonald from Apgar Village
Lake McDonald from Apgar Village
An active weather system had drenched much of western Montana in the hours prior to our arrival. Much moisture remained aloft. Yet the forecast appeared clear.
The following morning, after a long delay driving back into cell phone range so I could download missing map layers, we dropped the car at the Lake McDonald lodge and hopped the shuttle.
From Jackson Glacier Overlook, we dropped down to the very scenic Deadwood Falls.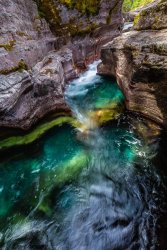 Deadwood Falls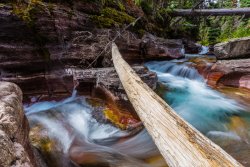 Deadwood Falls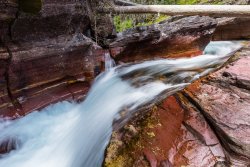 Deadwood Falls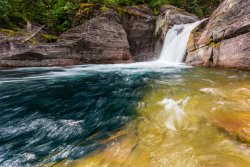 Deadwood Falls
Crowds and traffic noise thinned as we next moved west along the St. Mary River.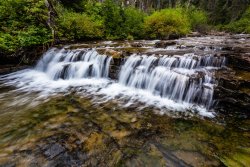 St. Mary River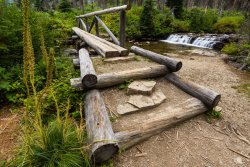 Footbridge over a fork of the St. Mary River
Our late start meant my plan of taking the little-used Jackson Glacier Trail were in doubt. Instead, we diverted to Florence Falls. Wildflowers below the falls were in glorious display.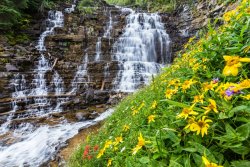 Florence Falls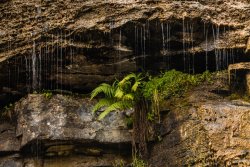 Florence Falls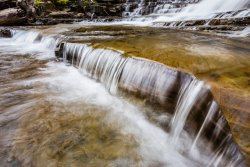 Florence Falls
Although we didn't get over to Jackson Glacier, the views of its remains from along the trail were stunning.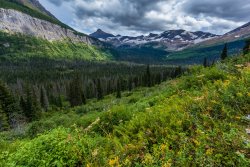 St. Mary River valley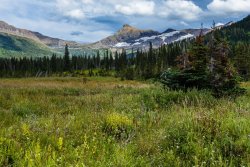 St. Mary River valley
The Gunsight Lake campground was already a bit too crowded for my taste when we arrived. After dinner, a tumult arose from among the other campers. A crashing noise cascaded through the campsite as a very large bull moose charged down into a thicket in the fading light of dusk. He settled down into the brush for the night.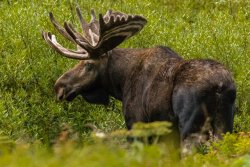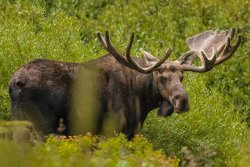 The backcountry ranger who issued our permit had warned us of "goat hazing" efforts at Lake Ellen Wilson. She warned us not to leave clothing or trekking poles outside of our tents at night, because mountain goats would steal them for salt. With that in mind, I slept with the vestibule on my tent drawn open.
At about 2 a.m., I came awake to the noise of someone using the campsite's toilet.
A different noise caught my ear a short time later, as I drifted in a semi-sleep state. The shrieking voice of a juvenile mountain goat, along with the rapid stamping of hooves. With half-lidded eyes I caught a glimpse of something lit by the silver light of a half-obscured moon darting by my tent. A surge of adrenaline brought me full awake. A doe and kid were running from tent to tent, intent on thievery. At one point, they stopped so near to my tent that had a thin sheet of netting not separated us, I could have reached out and hazed them myself.
In the morning, the other campers related similar stories. One family who'd spent the night talked over breakfast about their plan to hike over Gunsight Pass, past the Sperry Chalet and up to Comeau Pass and Sperry Glacier... then back to Gunsight Lake. They were already getting a late start for such an ambitious itinerary. Everyone else seemed skeptical.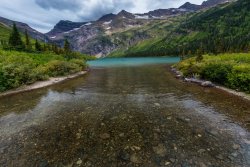 Gunsight Lake outlet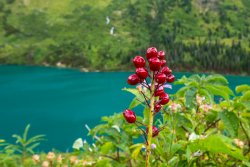 Bear food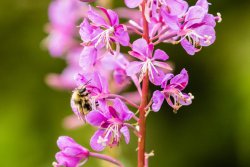 Sentinel species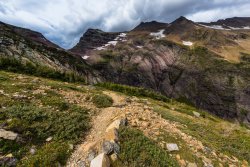 Above Gunsight Lake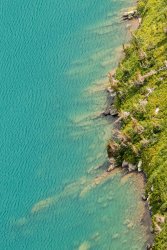 Gunsight Lake from above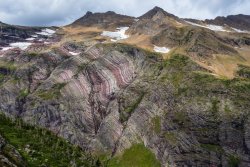 Glacial remnants and the St. Mary River headwaters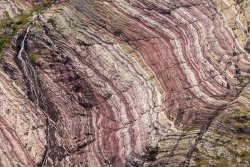 Variegated rock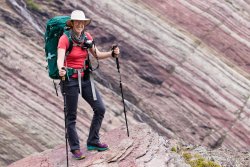 My sister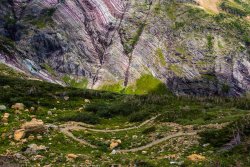 Gunsight Pass Trail switchbacks
Around this point, we started hearing odd noises from somewhere above. They sounded like almost continuous whistle blasts. Irritated, I wondered who was making such a racket.
It must be that family from camp,
I thought,
the ones with the kids who thought they were going to make it to Sperry Glacier.
Based on comments from other hikers, I later came to believe they had encountered a grizzly on the trail and were attempting to scare it off of the path.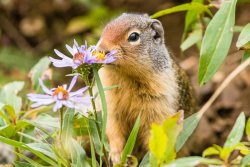 Not a grizzly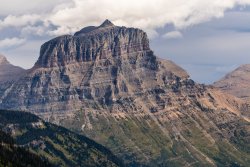 Going-to-the-Sun Mountain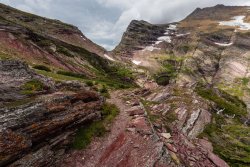 Gunsight Pass Trail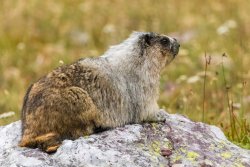 Also not a grizzly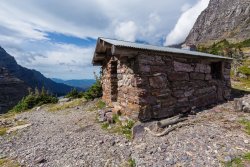 Gunsight Pass
We caught up to the ambitious family here. They were short of being even a quarter of the way to their goal, with a significant amount of daylight already burned. As it was, they turned back for Gunsight Lake without even descending to Lake Ellen Wilson.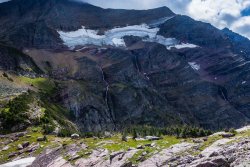 Above Gunsight Pass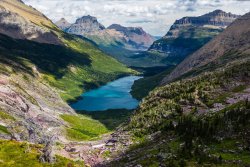 Gunsight Lake from Gunsight Pass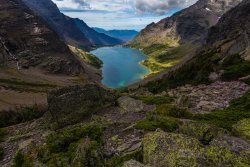 Lake Ellen Wilson from Gunsight Pass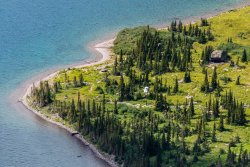 Lake Ellen Wilson campsite from above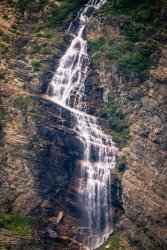 One of countless waterfalls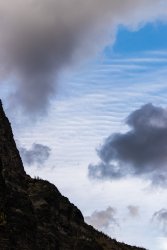 Striated skies
The descent from Gunsight Pass went quickly. We soon found ourselves at Lake Ellen Wilson and set up camp. The weather threatened, with a few short pulses of rain. Nothing too significant, however. As the afternoon waned into evening, we were treated to a dramatic light show on the 3,000-foot cliffs on the far side of the lake. Errant rays of sunlight kept drawing paths across the imposing wall of rock.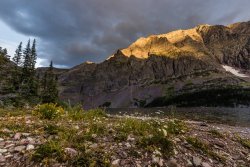 Lake Ellen Wilson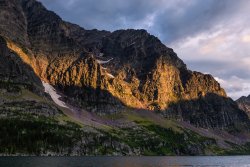 Lake Ellen Wilson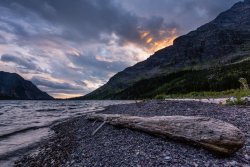 Lake Ellen Wilson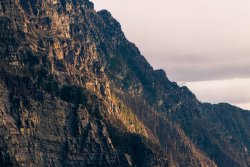 Sprague Fire (2017) burn scar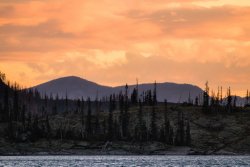 Lake Ellen Wilson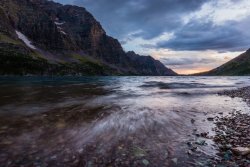 Lake Ellen Wilson
That was the last of the sunlight we'd see for awhile. The next morning dawned gray and ominous. We ate quickly and broke camp, eager to make progress before the worst of the weather hit. No sooner had we started the ascent toward Lincoln Pass than the clouds opened up and began to spray us with fine mist.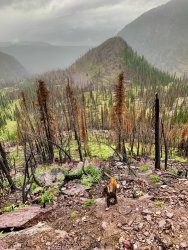 Upper Sprague Creek drainage from Lincoln Pass
This section of trail interested me, given it showed clear sign of impact from the Sprague Fire. That lightning-caused wildfire in the summer of 2017 consumed the famous Sperry Chalet. However, by the time of our hike two years later, the reconstruction work was well underway.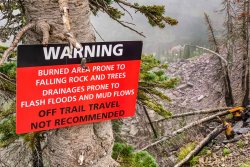 Fire damage around the Sperry Chalet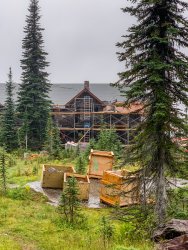 Reconstruction work on the Sperry Chalet
The fine spray of rain intensified into a deluge as we passed by the chalet. The cascade of rainwater pouring off the back of my pack soaked my legs from butt to ankle. The trail turned into a river, with accumulated precipitation carrying along copious amounts of manure left behind by the many horses carting materials up to the construction site.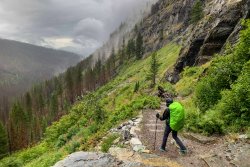 Sprague Creek drainage below Sperry
The sun re-emerged at almost the exact moment we reached Going-to-the-Sun Road, beaming through puffy clouds. Soaked, smelly and sore, we grabbed an overpriced but welcome meal at the lodge before heading out to an AirBnB in Kalispell.
That evening, to cap off the trip, we drove up to Whitefish to watch the sun set over Whitefish Lake.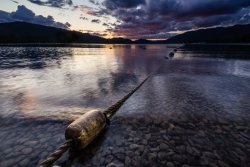 Whitefish Lake
Last edited: