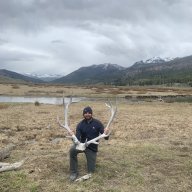 Joined

Jan 23, 2018
Messages

99
One of my favorite seasons of the year to visit southern Utah is in the winter. Solitude is the biggest draw for me this time of year! So the first week of January 2022 I picked up my brother in law and headed down from northern Utah. They had received rain and snow the week before and it was a cold stretch, so we knew we had to hit the roads at optimal times of the day when they were frozen. We packed enough food and water to self sustain several extra days in case we got the vehicle stuck. We also brought a satellite phone if needed. We did check in at the Ranger station to give them our general location. This trip would prove to be a balance of being wise, safe and slow at times, and being aggressive and pushing through discomfort at others. 4 days and 3 nights of winter backpacking was the goal! Dropping in and out of several canyons not knowing how much snow and ice was waiting for us was a great challenge. I hope you enjoy the limited pics I'd like to share, all just taken on my phone.
I always love driving in at night, with all the stars, darkness, and stillness of the high desert taking over your senses! We hit dirt around midnight and headed in.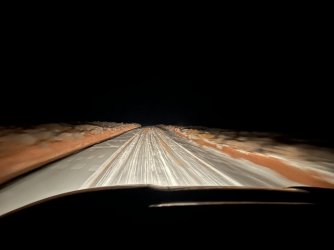 The first night I slept next to the car and my bro in law in the back seat of the car. I use my bigger tent by the car so I can fit my Exped pad in it and sleep great that first night. At 46 years old- more and more I need this first comfort night. Took this with my phone so it sucks- but you get the point, stars were popping!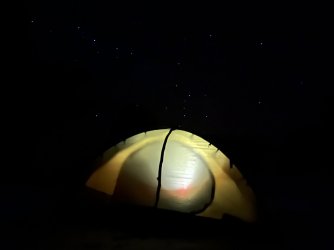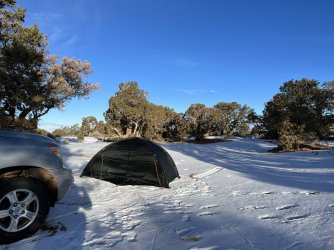 The following morning the roads were still frozen so we drove to our starting point to start exploring.
No tire marks = No people!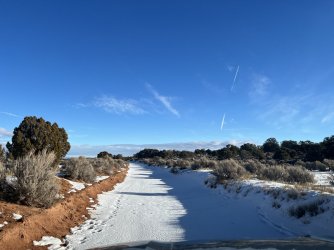 It was amazing the difference in the south facing and North facing slopes, especially in the winter the sun makes life a lot easier dropping in and out of the canyons on the south facing ledges. This was no route, just a lot of wandering... ha ha! Here are a few of my favorite shots.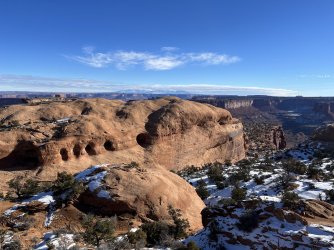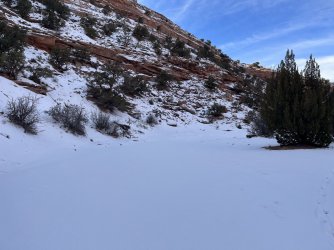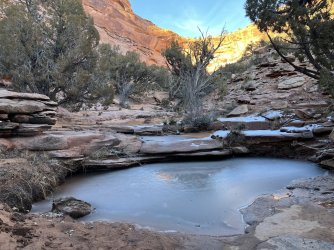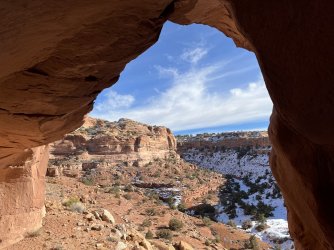 Liked this one where you can see our shadows opposite us.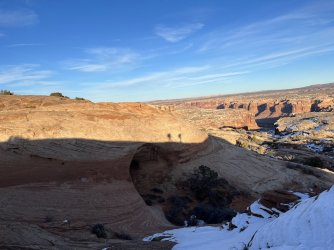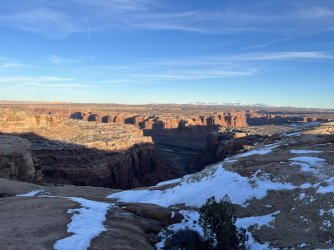 Had to swing by and see a few panels that I haven't seen for years and get this pic in case I never make it back. One was more faded than I remember.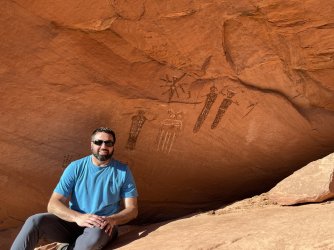 The one major downside this time of year are the long nights. The sun was down by 5:30 and wouldn't be up until around 8:00 am. We both have one man tents, so it was laying there alone for approx 14+ hours. It was some reading, listening to podcasts/music, and a lot of downloaded shows for me. Nothing like getting out into mother nature to have to stare at my phone for 3 hours every night! Made a few snowballs and had a good slushy, and plenty of snacks to enjoy during my movies! That is the one thing I love about non- bear country, eating candy in my tent at bedtime! One thing all the candy helped with was having calories to burn to stay warm through the night.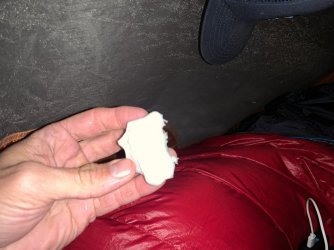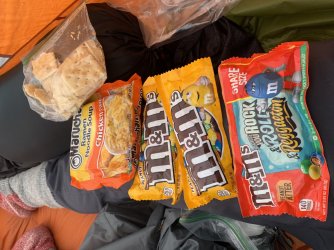 I think these are Mountain Lion tracks in a sandy canyon bottom. They were everywhere along this stretch. Guessing it was dragging its tail that made the line. (sorry, not sure why this pic keeps turning sideways).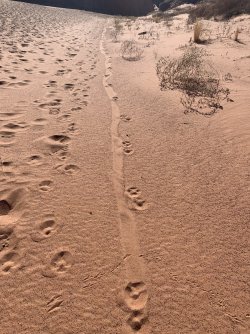 Last few pics on the way out.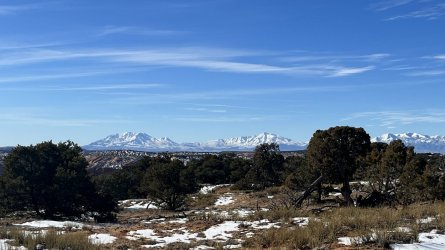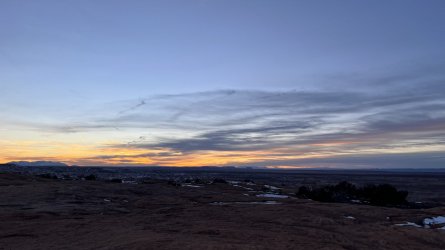 Overall it was a great January trip! Nice to get away for a few days to break up the winter months. We didn't see another person other than the ranger or a vehicle for 4 days. The high temp was 46 and the low at night was 15. One day was miserable as the wind wouldn't stop. Highlight one night was hearing a couple coyotes barking and howling at each other. Not the same as hearing the wolves in slough creek, but pretty cool. The roads were great early in the morning when they were still frozen. But once it warmed up they were awful! We only had one day when we were moving the car a few miles that this was a problem. It doesn't matter how good your tires are when they are caked with mud and clay!
Last edited: