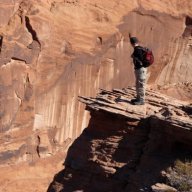 Joined

Jun 16, 2012
Messages

1,487
I'm going to admit that I have become reluctant to continue posting trip reports here because it seems like they generate little interest. I feel like I waste my time posting the reports when no one really cares. But I'm going to give it one last chance with a short report before I totally give up on it. This isn't meant as a complaint against anyone here...if people don't like my reports, that's my problem. That's why God created Facebook, anyway, right?
So, on November 8, 2015, a NASA engineer I met in the caving club here in Huntsville and I took a LOOOOONG drive to Hanksville to do some technical canyoneering. We had each taken a technical canyoneering class in the past, and we each had a grand total of two technical canyons under our belts. We had also recently taken a vertical caving class, so we were pretty sure that we could pull this off without dying. We wanted to go in October, but I had other responsibilities, so we went as early as we could, hoping the weather would hold.
Did I mention we drove out there? I'm pretty sure that was by far the most dangerous part of the trip...but I wanted my 4Runner with me...it felt like I was back home!
We arrived at Blarney around 11 am on Monday and decided to get right to it. I thought Blarney was a great canyon and a good warm-up to get us started. The hike up to the top was a good scramble, but at least it woke us up after the long drive. And the canyon was beautiful.
We didn't have any problems with any anchors or rappels, so it was a good day.
The next day brought rain and snow, so we sat it out and just drove around. Of course, I had to show him our Survivorman findings...
Wednesday we hit Baptist Draw. We weren't really prepared for water, though, and we hit a big, deep pool just before the first rappel. After much debate, we decided to wait and fight another day and climbed out of the canyon near the pool and made our way to the trail that leads between upper chute and the trailhead. The walk to upper Chute was simply beautiful and, as always, I loved the quiet and solitude of the Swell's backcountry.
We dropped down into Chute and quickly encountered another large pool, so we didn't go any further. I had intended to bring my wetsuit, but I totally forgot to take it, so we called it a day and climbed back to the truck.
The next day we were going to hit High Spur or Big Spring, but we ran into lots of snow before reaching Hans Flat. I was worried that the snow would melt and turn the roads into an impassable mess, so we adapted and went down Little Blue John. I actually think this was my favorite canyon of the trip. It had some longer rappels and the canyon was really nice. The hike across the desert back to the trailhead was pretty long, but that was nice, too. Unfortunately, I didn't get any photos in Little Blue, but I've got some GoPro footage that I'll get edited.
The next day we headed back down to North Wash to do the east fork of Leprechaun. This was also a very nice canyon with a fun ascent up to the top. The slots in this canyon were long and tight...I got pretty worn out carrying my entirely too large pack through the long slots. We did start to get more comfortable with the downclimbs in this canyon, so that was nice. We ran into one putrid pool of water right past the junction with middle fork, but that was the only pool we encountered that we couldn't get around.
And the next day we hit the west fork of Shillelagh. This canyon wasn't nearly as tight as Leprechaun, but it was really pretty with its wide open rappels.
I'll post this short clip if you promise not to criticize our technique too much!
We did have a point of drama in this canyon that could have turned out bad. About 200 yards before the junction with the right fork, we ran into three cows that were stuck in the canyon. They could have backed up, but they couldn't turn around, and they couldn't figure out how to back up. We tried for 20 minutes to get them to back up, but it just didn't work. There was no way to stem above them, and they were very scared, so it was a bad situation. Luckily, we had just passed the exit point for leaving the left fork to traverse over to the right fork if doing both canyons, so we were able to back up a couple of hundred yards and get on the slickrock above the slot. We made our way past them and were able to drop back down into the canyon at the junction. While we didn't have any problems, I have no idea what we would have done if there hadn't been an escape nearby. There would have been no way to get past them without risking getting thrown into the canyon and trampled.
When we got to Hanksville we called the Sheriff's Department to let them know. We got a call later from the rancher thanking us for calling him. He said, in all, seven cows were stuck in the canyon by the time they got there, and they were only able to get five of them out. I don't know what that means will happen with the other two, or what that means for the canyon.
That was our last canyon...we then made the looooong drive back to Alabama.
We were definitely not perfect canyoneers on this trip, but I think I chose wisely on the canyons that we did, so there weren't many problems. We also learned a lot that will make us better on future trips. I need to learn better rope management...I used an ATC but my friend used a figure 8 which resulted in all sorts of rope twist that we just didn't know how to handle. All in all, it was a great trip and I look forward to heading back out for some new canyons next year.
Featured image for home page: