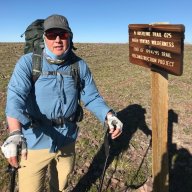 The mountains are calling and I must go
.
Joined

Mar 31, 2013
Messages

1,017
Since we didn't get any mountain BP in this year my children
are clamoring for a Thanksgiving BP in the deserts of southern Utah.

I've read several TR but nothing has stuck out to me.

Looking to do a 3 day/2 night.

Probably something where I wouldn't have to do a lot of off road
driving either.

Your recommendations and experiences are appreciated as well as
info on permits, water, and sights.