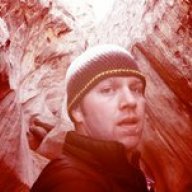 ^^^^^^^^^^^^^^^^^^^^^^^^^^^^^^^^^^^^
Joined

Jan 18, 2012
Messages

464
My family and I bought tickets to see the Beach Boys 50th anniversary tour in Las Vegas and rather than just run down to Vegas we opted to camp Saturday night on the way down (concert was Sunday) and do a little more camping in Zion on Monday.
It was Memorial Day weekend so we obviously could not find any campsites to reserve and we knew most BLM sites would be taken. I was relatively un-sure about any primitive camping in the St George area, but got a few good leads from
Seldom Seen Anderson
.
My sister Amanda and her Husband Brock followed us down and our first stop was a hike up the Taylor Creek trail in Zion's "Kolob Canyons", which is right off I-15. My first realization on the way down was that I forgot my Keens, so we stopped off at Walmart and I purchased a cheap pair of "Ozark Trail" wannabes. I figured for $16, they have to last me at least one hike.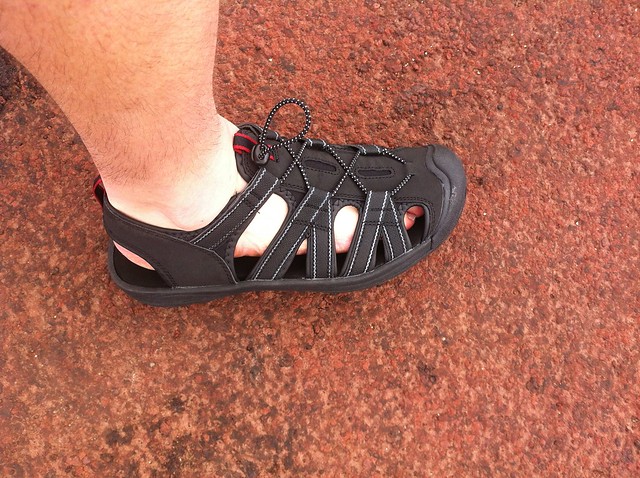 Taylor Creek was really pretty. It had a nice little stream running through it that you crossed over many times, which was fun for the kids.
It was still a little chilly so we bundled Waylon up, who was a tiny bit sick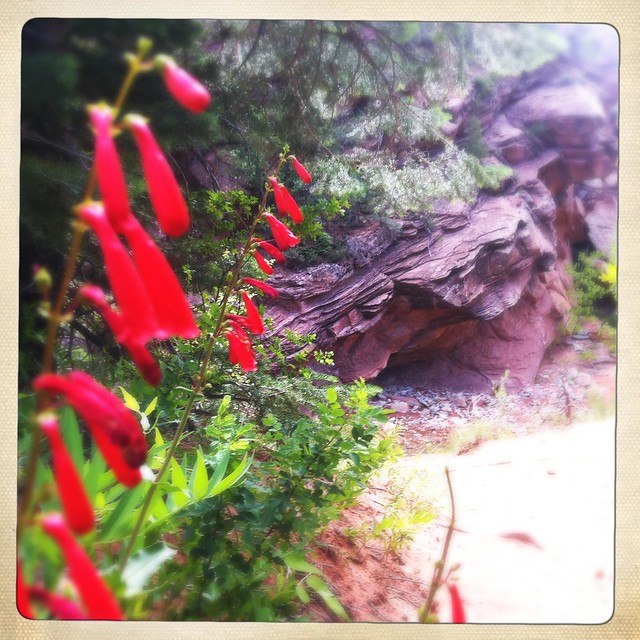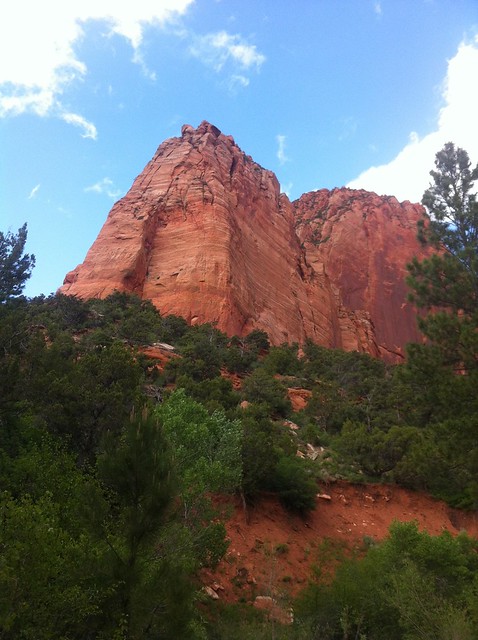 After our hike we headed south on I-15 and headed west off the Leeds exit up the Oak Grove Rd to see if we could be lucky enough to find a campsite somewhere along the road. Luck would have it that the very first campsite on the road was being broken down and the people were leaving. It had been really windy that day and I think they were tired of the wind. That site was a bit exposed so we decided to drive on up the road to see if we could gather more luck, knowing we could alway fall back on that site. A few more miles up we were able to find another site overlooking Leeds Creek, so we set up there for the night.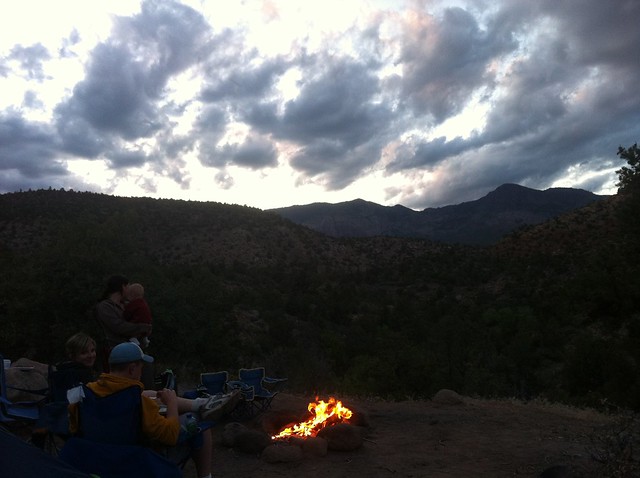 Timelapse I did of camp (my first timelapse with my GoPro)
That night Waylon did not sleep well, so around 11:30pm I put him in the car and we went for a drive. It was weird driving in an area I've never been to in the dark. I had wanted to explore the St George cutoff road (which forks off the Oak Grove Rd) because curiosity got the best of me and I was wondering where the headwaters of the
Red Cliffs area
came from. I noticed this road on the map, which ran by several headwater streams. Sadly I couldn't see a thing at night, but that would be rectified the next morning.
I finally got Waylon to sleep and hopped in my
ENO hammock
for a few hours of sleep. Waylon woke up again around 1:30am and Alene took over until around 5:30. I took over again and took Waylon for another ride while he fell asleep. I drove up to the end of the Oak Grove Rd to find a beautiful improved campground (Oak Grove) which is managed by the Dixie National Forest. It was full of course, but I can see why. I can't wait to get back down here and camp at that place. It's about 20 minutes from the freeway and you would never know such a beautiful wooded campground existed down near St George.
Entering the Oak Grove campground area
Stream runoff
Sunrise just down the road from the campground
After the sun rose, at about 6:30 I went and drove back on that St George cutoff road to see what I could not see the night before. I was blown away at how many deep canyons existed up there. I believe they all lead into the Red Cliffs area below, but I was in awe of how beautiful they were and how deep they cut into the sandstone.
There was a ranch up on this road and the headwaters kind of gathered in this area (a couple of ponds in the area to catch/reserve the water)
A grove of trees where one section of the headwaters to Red Cliffs ran under
The girls back at camp eating some breakfast
After a long morning exploring with Waylon, we packed up and headed down to Vegas, directly for Boulder City to ride the tunnel trail at Lake Mead. Alene had done some research on this and we thought it would be fun to see a little history in the area.
Video of our ride along Lake Mead
Lake Mead was pretty busy and after this hot ride it was so tempting to run down there and jump in, but we had a concert to get to, so a shower would have to do. The concert was much better than I expected; I'll have a review on my personal blog soon.
The next morning we headed out of Vegas where we had a campsite reserved at Zion in the Watchman campground (the last one left). We got a late start out of Vegas and by the time we had gotten there and set up it was getting close to sunset. Bailey and Alene ran over to the river to play for a bit while I set up camp.
When they got back we went for a little bike ride along the Pa'rus trail and found this awesome swim area just below the diversion dam on the Virgin River. Alene and I both opted to jump in. I was so worried it would be cold so Alene "manned up" and jumped in first. It was actually quite refreshing and I wished I had jumped in sooner. I'll be back at this spot for sure.
Waylon hanging out while mommy prepares for her jump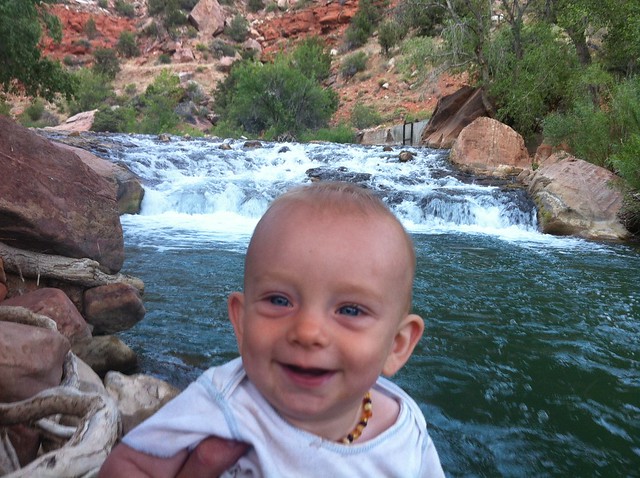 Alene went in first
Then it was my turn. I loved it
https://flic.kr/p/7302062562
Coming up out of the water I found this little guy
Waylon was happy in his trailer as long as he had his sucker
Cuddling up with my little Bailey next to the camp fire
The next morning we packed up and drove our way up through the Zion tunnels and up Hwy 9. We pulled off 5-6 miles past the tunnels and did a little hiking around in the dry creek bed below
An awesome tree made a natural bridge across the wash
We then headed back down the hwy to the main reason for doing one night in Zion. I had never jumped into the Pine Creek pool and had been wanting to for many years back when Alene and her sister April found out about it on their West Rim backpacking trip. I opted to ride my bike down the Hwy and meet them at the tunnels.
The Pine Creek swimming hole was all I expected and like jumping in the Virgin, I wished I could have stayed there all day. We ran into one couple that had just came down from the Pine Creek technical slot. They did a couple of jumps into the pool, then headed on their way
https://flic.kr/p/7163231457
https://flic.kr/p/7163247555
https://flic.kr/p/7348470994
My tarzan swing into the pool
https://flic.kr/p/7302116160
The kids playing in a little pool above the big pool
This place was littered with more of these guys
Obligatory photo op in Beaver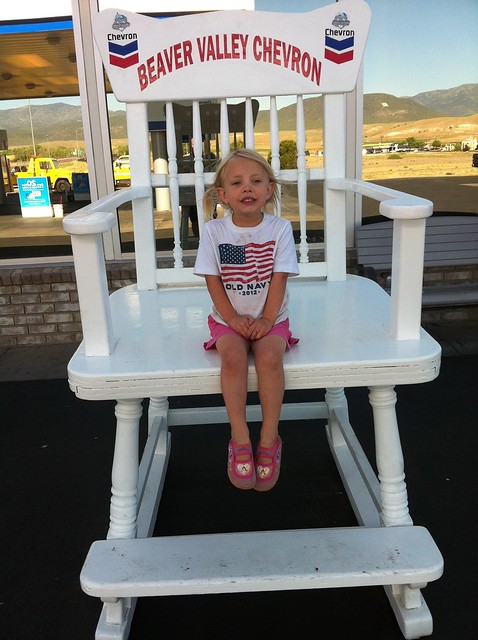 We had a great time. Initially this trip was going to be short with me just going down to Vegas on Sunday morning and coming back Monday, but I'm glad Alene wanted to come and we were able to get some good time in outdoors.
Featured image for home page: