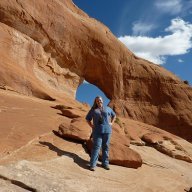 Desperately Seeking Sandstone
Joined

Jan 21, 2012
Messages

1,692
When I mentioned in Part One that I felt like I was cooking at Valley Of Fire, I kind of was. I'd been diligent about reapplying sunscreen the day before, except that I was wearing capris and I forgot to do my legs.D'oh! My legs hadn't seen the sun for a while, and I was a crispy critter. I stopped at a gas station in Overton to get some aloe before continuing the drive. They had one kind with lidocaine. Score! My feet weren't doing so hot either because I'd been trying to break in a new pair of shoes. I texted @
Miss Buffalo
to let her know I would be to Whitney Pocket a little early. She was running early, too, so we met up at about 11:30, instead of 12:00 as we'd planned.
I was surprised by how many people were out and about in the Whitney Pocket area. ATV traffic mostly. It was Easter weekend, so I doubt it's always that busy, but still. The drive in was neat because the Gold Butte area is on the opposite side of Lake Mead from Valley Of Fire, so you could actually see Valley Of Fire along part of the drive in.
In bloom
I love spring in the desert!
Whitney Pocket
My car would do us no good for the adventures we had planned, so we left it in the parking lot, and I loaded my camping gear into Yvonne's Xterra. Our first stop of the day was the Falling Man rock art site. I really liked that area. The rock art was awesome, of course. You have to climb up through a hole in the rock to get to the rock art, which was fun. The rocks in the area were surprisingly colorful. Kind of like Valley Of Fire, but not quite as vivid. You could easily spend a couple hours there just exploring.
Open arms
Pastel checkerboard
Yvonne photographing some rock art
Time to tunnel
The Falling Man
Stairway to heaven
After that we drove further down the road to hike to the Kohta Circus rock art. It's about a 5 mile hike round trip, but it felt longer because it was so hot! I had really exhausted myself the day before, so that wasn't helping either. The rock art was totally worth the effort, though. There's a really impressive main panel, as well as several shorter ones. The main panel is the largest rock art panel in Sothern Nevada. The High Panel, however, is the best panel, and I mean one of the best I've seen anywhere. There was a neat little slot canyon nearby that we played around in for a bit, too. That hike took a bit longer than I think either of us anticipated because we realized on the hike back that we were running out of time to get to Little Finland in time for the good light. In our rush to get back we lost the trail for a bit. There was an old trail we were following, but we realized it wasn't the right one. After some searching we found the correct trail, and speed walked back to her car.
Killer clouds near the trailhead
Kohta Circus main panel
Kohta Circus high panel
Yvonne photographing the high panel. She's in the center of the photo.
Yvonne in the mini slot
Stemming
Golden arch
We decided on the drive that we would set up camp after we explored Little Finland so we could have as much time as possible in the good light. Fortunately the road was in better condition than Yvonne's last visit, so we made good time getting there. The light was really good when we got there, but I was really struggling by this time. My feet were really hurting, and it was still pretty hot. I was having a bit of trouble finding strong compositions. We didn't exactly have any time for scouting, and I'm sure the fact that I wasn't feeling better probably contributed. Still I managed to get some decent shots. I would love to go back sometime. I have a feeling that with a little more time and a fresh pair of feet I could capture some real magic there.
Home sweet home for the night
Wicked Jester
Pink elephants, anyone?
Eye sky
Gimme a four
The Dragon
Mythical Creatures
The Raptor
The Mothership
Fantasyland
Sleeping Beast
We camped just below the cliffs that hold the formations. There were some nice big palm trees along the cliffs. I'm a sucker for palm tree, so I really enjoyed that! We saw a couple other groups while we were exploring, but they left after sunset, so we had the place to ourselves. It was a nice place to camp, with the exception that it was hard to find a flat spot to pitch a tent, but we made do.
The next morning we had two rock art sites we wanted to find. The first site was the Mud Wash petroglyphs. They were just off the road along the way to and from Little Finland, so they were easy enough to find. The other set we were looking for were at a place called Seven Keys or Keyhole Canyon. Martes mentions it in his Arizona book, but doesn't say how to get there. I found some info online, but it seems that something was lost in the translation because the dirt road it tells you to take was a dead end. We decided to save it for another time after we've had a chance to do more research.
Mud Wash Panel
Despite a little physical discomfort, it was an amazing trip, and I was thrilled to have visited some of places I most wanted to see in Southern Nevada!
Featured image for home page: