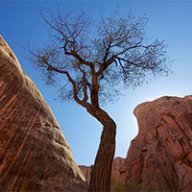 Joined

Aug 9, 2007
Messages

12,939
After the fun, but long day we had in the
Lower Black Box
, we did a little re-thinking of how we wanted to spend the rest of our weekend in the Swell. Our original plan was to do the Upper Black Box next, but after spending such a long day in the lower box, something different seemed in order. So we dropped
gnwatts
off at his car at Sinkhole Flat and made our way south of I-70 to spend the night. Our target the next day: Southern Baptist Canyon.
Southern Baptist is a tributary of Upper Chute Canyon and is named Southern Baptist because it has been mistaken for the more well known Baptist Draw on more than one occasion. The trailhead is out on the end of a mesa, due east of McKay Flat. There are about 4 rappels and a lot of downclimbs, the largest rappel is less than 100 feet. All anchors are natural so be prepared to build your own if you head out this way. Here is a map with my GPS tracks:
[parsehtml]
<iframe width="930" height="600" frameborder="0" scrolling="no" marginheight="0" marginwidth="0" src="https://maps.google.com/maps/ms?ie=UTF8&amp;hl=en&amp;oe=UTF8&amp;msa=0&amp;msid=214533597045798101523.0004ca405f763a050b55f&amp;start=0&amp;num=200&amp;t=p&amp;ll=38.687721,-110.791583&amp;spn=0.020099,0.039868&amp;z=15&amp;output=embed"></iframe><br /><small>View <a href="https://maps.google.com/maps/ms?ie=UTF8&amp;hl=en&amp;oe=UTF8&amp;msa=0&amp;msid=214533597045798101523.0004ca405f763a050b55f&amp;start=0&amp;num=200&amp;t=p&amp;ll=38.687721,-110.791583&amp;spn=0.020099,0.039868&amp;z=15&amp;source=embed" style="text-align:left">Southern Baptist Canyon - Backcountrypost.com</a> in a larger map</small>
<br><br>
[/parsehtml]Thanks to the mediocre beta we were working with, it took us a bit of troubleshooting to find the correct trailhead, but we eventually made it and set out for the canyon. The views down into Chute Canyon and on to the reef are awesome out there. This would be a killer area to camp.
After descending the mesa, we skipped past the first draw and started down into Southern Baptist. If you go down the first one, you miss all the good stuff.
The canyon slots up instantly. At first it was a shallow play slot and then it moved onto some seriously tight and twisted narrows. I had to take my pack off and scoot sideways in one spot.
drclef
on one of the many fun down-climbs in Southern Baptist Canyon
neiloro
I found this interesting little trinket at the bottom of the first rappel.
The newly-engaged couple,
lostlandscapes
and
drclef
After another small rappel, we found ourselves in a very unique place. The watercourse cut through this tiny natural bridge, into a giant pothole and then down nearly 160 feet. That's
neiloro
going for the first rap down.
Waiting for Nilauro to get down. The 160 feet was divided into two raps, one 60-70 footer and then one around 90 feet. There was a ledge between the two where we were able to re-rig.
Tim coming down the first stage of the rappel.
And this is Tim at the bottom of the second stage. Check out the video below to see what's in between all of this.
A video from the core of the canyon. My apologies for the shakiness. Still trying to figure out how best to use this GoPro thingamajig!
After the big rap, we took a break for lunch and packed up our technical gear. Little did we know there was still plenty of fun down-climbing to do! Here's Tim showing his 'doh face!
A couple drops later, we hit this fun one. It was filled with rotten, stinky, slippery mud at the bottom and it was steeply sloped, so if you stepped anywhere around it, you would slip into the middle. Most of us tried to stem all the way over it, but it widened up a bit too much on the far end.
Mandy had almost made it and fell butt-first down into the slop. You have no idea how bad that stuff smelled!
Tim dropping into yet another pool that reeked of death and feces. It's like fun but...
Nilauro in the stinky pool.
Soon after that last pool, the canyon connected with Upper Chute Canyon and we were treated to a very long, beatiful stretch of deep narrows.
Awww... sorry, I wouldn't normally post this, but you newly-engaged people sure are cute sometimes! Haha!
The canyon opens as we approached our exit canyon.
The exit canyon was a bit different than we anticipated. The beta we had said to 'walk 30 minutes up canyon' then climb out at the place where there is an intersecting canyon on both sides. Well, it turns out that was more like an hour up canyon, and there was no such side canyon. There was a cairn that led to the foot of a solid 5th class climbing route out of the canyon. Ummm.. no. So we went a little further and found an upper 4th class scramble to the rim. It was a bit dicey here and there but overall not too bad. It was a good lesson in crappy beta, along with a few other things on this trip.
We travelled overland back to the truck, largely skipping our previous route down from the mesa. We sat in the shade of my Tacoma and savored a cold beer while looking over the San Rafael Swell, before packing it up and heading back to reality.
Along the road back to McKay flat, we ran into an amazing scene. There must have been at least 40 wild horses. We drove along them at first, admiring their freedom as they ran around the open plains.
Eventually it was too much and we stopped the truck, got back out and savored the scene. It would have been nice to have my SLR and long lens on, but this still captures a bit of what it was like. Truly unforgettable...
Featured image for home page: