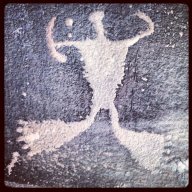 Joined

Oct 24, 2012
Messages

345
Road trip! We made it all the way to Roswell before we needed a pit stop. Fortunately none of us were abducted.
We made camp that evening at a primitive site near Parks Ranch Caves. I talked to the BLM office about camping before I left and the gentleman I talked to suggested this place after I told him how we were traveling, what we were looking for etc. The BLM folks were VERY helpful as I planned this trip and I totally recommend calling a field office when planning a trip anywhere near BLM land. The guys I've talked to know the land inside and out and can point you to some really cool, off the radar stuff.
Anyway, Parks Ranch is a primitive camp site a few miles off the road. The road was rough but doable in our minivan. I didn't worry at all about getting stuck, maybe a tire puncture though because some of the rocks were sharp.
The sites themselves have fire pits that aren't maintained. Years of campfires have led to a pretty thick buildup of ash all around, dusty and uninviting. We ended up setting up the tent several yards away. Other than that it is a nice quiet place.
After we parked, we geared up and took off to explore the Parks Ranch Cave system. There are 4 or 5 natural entrances near the camp sites. If you visit, don't go in the caves if it is raining in the area. They are basically nature's storm drains. If the floodgates open up you will probably die.
Here is a view as we descended into the pit that held three entrances. Two entrances are stacked on top of each other right under my feet...
We explored the upper entrance which is pretty much a long winding tunnel, enough headroom for adults and perfect for kids. The total length of the entire cave system is a little over 4 miles I believe. We took this tunnel for a long way and still didn't see the end of it.
The kids loved it. After our caving adventure, we watched the sunset.
Then a freak gust of wind blew our tent about a quarter mile away. My daughter thought that was the most hilarious thing she'd ever seen. (I agree it was pretty funny, it looked like a giant just up and punted it). Her and I went to retrieve it and found this...
The tent was stuck in a ravine. My daughter said we probably needed to explore it because if we discovered a new cave we would be famous
Sure enough, we found one...
We didn't have ropes and such, so had to let this one go for now.
The tent was a little worse for wear but we got it set back up and lashed it to the van. The rest for the evening was peaceful and quiet.
Next morning it was bacon and eggs, then off to see Carlsbad Caverns. I'd been there when I was a kid and it had an enormous impact on me. The dark bottomless places and unexplored reaches set my imagination on fire as a child and still do today. I was a little worried that the caverns would disappoint me now thanks to my older jaded viewpoint. Many other childhood delights have lost their luster when I've revisited them years later (Flight of the Navigator, Chucky Cheese, Weird Al). I needn't have worried. Carlsbad Caverns is still one of the most mind blowing places I've ever visited. It was even better this time having kids to share it with. I know its a tourist trap and crowded and expensive etc. But it is awe inspiring and you've got to do it at least once.
We started with the natural entrance which plummets almost 800 feet down in about a mile. Goodbye daylight!
After reaching the bottom, we ate sandwiches at the underground cafeteria and used the underground restroom. All very novel experiences. Then a walk around the Big Room. Camera's can't really do it justice but there was one pic I liked...
By then the kids were worn out. We took the elevator up, found some dinner and called it a day.
Next day it was back to the house with a detour (via Cloudcroft etc., nice drive) to hit the slopes at White Sands. Perfect day for it.... 70 degrees and sunny. The sand was warm on the surface and cool underneath.
And that was pretty much it. Thanks for reading.