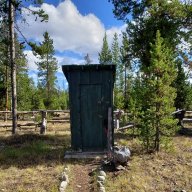 Joined

Feb 15, 2020
Messages

212
This is a trip from a couple years ago, but one I've referenced in a number of my comments so I thought I'd go ahead and post a trip report. Being a couple years old some things might be a little fuzzy, but I think I still remember it quite well.
This was another of my yearly trips w/ my younger brother - the previous year had been an off-trail, terrible weather slog-fest in Denali NP, so I promised him trails in 2019. Of course, I also had to bump up the mileage to compensate - you can't take it easy on a younger sibling after all. Total planned mileage was right around 90 miles - actual ended up being just about 100; it was a pretty comfortable 5 night trip w/ excellent weather throughout. (We did get lucky and narrowly miss an early season snowstorm a couple days ahead of our trip, but it was warm enough that it had mostly melted off throughout our route - except where we crossed Big Game Ridge.)
Day 1: 8K7 South Entrance TH to 8C2 Nine Mile Meadow
The drive was the worst part of Day 1 - we were up at 4AM in Colorado to grab our permits before the backcountry office closed for lunch - after that it was around 9 miles to our Nine Mile Meadow campsite for the night. I've driven through the South Entrance more times than I can count and always wanted to cross that section of the Snake River - I was really excited to finally get wet. The thermal features along the Snake River were beautiful and subtle with occasional signs that the area might have been more active in the past. My personal favorite was the bright green stream that evoked a bit of an impressionist "vibe" - sorry, I'm no art historian.
We were really impressed by the bear boxes at site 8C2. There were large straps/chains nearby that - along w/ the fairly pristine condition of the boxes - seemed to indicate that maybe these were a recent addition.
Overnight we would be disturbed around midnight by the extremely loud and distinct sound of wolves very excited by something - by far the clearest I've ever heard. I wish I'd thought to record audio, but it's not a sound I'm likely to forget soon. Very surreal experience.
Day 2: 8C2 Nine Mile Meadow to 6M7 Fox Creek
It's become a running joke with all of my hiking partners that Day 2 is
always
where I put the crux of the trip - this one was no different. It wasn't our longest mileage day, but the ascent of Big Game Ridge combined with the snow/mud mixture from the previous week's snowstorm made for a bit of a slog at times.
No complaints about the weather though.
Harebell Patrol Cabin showing some pretty good signs of bear activity. Probably closed up for the season at this point.
The first signs of winter...
Beautiful view from the top of Big Game Ridge - the snow-on-mud trail to this point slowed us down, but it was a beautiful spot for lunch. It was also a strange spot to have one of our only two human encounters of the trip - we ran into a group of rangers heading back from the Thorofare on horseback w/ mules in tow. Was nice to chat w/ them for a bit, but their animals certainly did us no favors in regards to the trail conditions - they'd stirred up a nice mud/snow mixture in their wake. The rangers also offered us a pretty sincere warning that a number of grizzlies were in the area pursuing gut piles due to elk season currently in progress right outside of the park boundary.
We crossed the boundary back-and-forth a few times along the trail.
No pictures of our campsite, since we rolled in a little late and ate dinner mostly in darkness. The site was nice - very close to the Fox Creek Patrol Cabin - and had good water access. (Hard not to feel a bit like a prey animal bending over to filter water by a small stream in the dark though...)
Day 3: 6M7 Fox Creek to 6Y5 Cliff Creek
This was the day that we'd see our "destination" for the trip - the Thorofare Patrol Cabin. The location certainly has well-earned mystique and I was eagerly looking forward to getting there - this entire day was an absolute delight. Though it started overcast and quite cold, it quickly warmed up.
We didn't stay there, but site 6M3 Mariposa Lake looked to be the definition of serene. I'm sure it's absolutely beautiful earlier in the year. We did have an interesting encounter with a cow moose and calf nearby though: she surprised us (I think it was mutual) and ran off, but then abruptly returned without her calf to make sure we were continuing on posthaste. We were happy to oblige.
My brother is a carpenter and manages to get some of the strangest - but also beautiful - pictures of wood grain along our routes. (Probably 50% of his shots are close ups of trees.)
And we're here...
My brother's hand for reference... he's 6'2". Saw a number of prints throughout the area.
Some beaver ponds as we approached the patrol cabin.
Probably half a mile before we reached the cabin we had our second (and final) human encounter of the trip. In one of the only limited visibility sections of this area, we stumbled into a solo hiker doing a similar loop (in reverse) out of the Heart Lake TH. We shared some route info and carried on - he'd apparently had a pretty dicey encounter with a bull elk earlier in the day, but seemed to be going strong.
Our site for the night was 6Y5 Cliff Creek and it was a beautiful location a decent walk from the main trail - there was even a nice spot for a cold soak/"bath" along Cliff Creek. That said, I was a little bit wary of the number of dead trees/limbs overhanging much of the "tent pads" (such as they were) and we ended up setting up our tents outside of the treed area at the edge of the meadow. This probably resulted in a less ideal campsite (more condensation), but I felt more comfortable.
Day 4: 6Y5 Cliff Creek to 6A4 Trail Bay
This day was probably the easiest 15 miles I've ever traveled... just a gentle downhill along the Yellowstone River to Yellowstone Lake. If there was any critique, it might be that the scenery was about the same all day - but that's not much of a critique in Yellowstone. We heard elk bugling throughout the day and saw a number of bull elk at a distance.
This was our crossing for the day - it was very slow moving and technically easier than where we'd crossed Thorofare Creek and the Yellowstone previously on Day 3, but it was pretty deep. I think the snowmelt from the previous week's storm may have contributed, because it was chest high and almost a swim at one point.
On the other side we found some bear prints running along the shore.
Another tree close-up, courtesy of my brother.
Some "historical trash" - we found a number of these along the trail as we approached the lake.
It happened too fast to get a picture, but right along the edge of the lake we spotted our first (and only) grizzly of this trip. He was digging along the shoreline when we came around the corner - he took off immediately, crossed the trail about 20 ft. in front of us, and was gone. The speed was terrifying, but his desire to get away from us was relieving. There were a lot of "Hey, bear!"s that night, because our campsite was only another half mile ahead.
Our campsite for the night 6A4 Trail Bay was spectacular - right next to Yellowstone Lake. Waterbirds were everywhere and we spotted a golden eagle and a few bald eagles as well. (This was my first golden eagle sighting in Yellowstone, so that was pretty cool.)
Day 5: 6A4 Trail Bay to 8J6 East Shore (Heart Lake)
Day 5 was a bit chilly with a touch of frost on most of the meadows, but turned into another beautiful day as the sun came up. This was our shortest full day of the trip at barely over 14 miles - I also think it may take the record for "least eventful crossing of the Continental Divide", at least for me personally. (I'd say the name "Chicken Ridge" is appropriately bland.)
Trail Creek Patrol Cabin was a quick detour off of the trail.
Mt. Sheridan from the far side of Heart Lake - very close to our campsite for the evening.
A privy! Heart Lake is a pretty popular backpacking destination, but despite the accommodations we didn't see any sign of another human being. Hiking later in the season definitely has its benefits.
The wind coming off of Heart Lake was intense all night and we even got some rain showers - our first precipitation of the entire trip. We were aiming to wake up early anyway because tomorrow was the final and longest day of the trip.
Day 6: 8J6 East Shore (Heart Lake) to 8K7 South Entrance TH
Our final day had us looking at about 22 miles to get back to my truck and a non-dehydrated meal, so we were up early and motivated. My brother was nursing a pretty decent blister on one foot that needed to be tended to, but a little foot maintenance and he was ready to go. We took our time around Heart Lake to enjoy the thermal features, but picked up the pace from Sheridan Lake on to the trailhead.
We saw Rustic Geyser erupting in the distance as we walked along the shoreline.
Took a quick lunch break at Basin Creek Lake.
And we return to the Snake River... no more pictures from here, since we were now tracing our steps back to the truck. We did see a number of very fresh bear prints on top of our own from 5 days previous.
Overall it was a fantastic trip with beautiful weather and near complete solitude... not much more you can ask for. One of the rare trips I think I'd be happy to repeat w/o any changes.
Last edited: