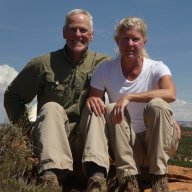 Joined

Dec 7, 2017
Messages

249
Inspired by WasatchWill's recent trip report on his recent backpacking trip with his daughter, I thought I oughta' share our June roadtrip with our 14-year old granddaugther, Natalie. It wasn't an epic trip like other posts to this site (which we LOVE to read) and the photos aren't as spectacular, but it might nudge others to take a chance on a young one and get them out in nature.
To start, we've been wanting to take Natalie out on an adventure for
years
. Up to now, though, we could only get her for a few nights here and a couple nights there. However, this spring it was determined that she not only had a couple of weeks free after school let out and (
insert a BIG "Wahoo!!!" here
) she wanted to spend it with
us
! Immediately our minds started spinning as to where to take her; would she find the activities as cool as we do; would we wear her out; would it be too hot (she's from Oregon); would she occasionally transform into a grouchy, snarky teenager (she is 14, after all)? We whipped up an itinerary for an 8-day, 7-night roadtrip through SE Utah and received an enthusiastic thumbs up from her.
Wednesday, June 19 :
Packed up the RV and made the easy drive to Green River.
Welcome to Utah!
We dropped the trailer at the KOA Campground (it has a very attractive, (to Natalie), amenity that dry camping can't offer - a pool!) and took her to see the Crystal Geyser outside town. She marveled at the colorful deposits made by the geyser and was hoping that she'd witness an eruption. No geyser, but she still thought it was cool.
Nothing like this in Oregon...
With Grandpa Blake
She enjoyed the refreshing pool at the campground that evening and we all went to bed early so as to beat the heat the following morning.
Thursday, June 20th :
We left Green River early and made our way to Goblin Valley State Park. I think I'd shown Nat a picture or two of Goblin Valley in the planning stages of the trip, but we didn't tell her much more than that. When we arrived there were only a couple other cars in the parking lot and we made our way down to the valley floor. Nat was hesitant at first, perhaps not knowing what to make of this strange world, but after a quarter of an hour or so, she was running around, climbing up and over formations, peaking out through small windows and just having a blast!
Surfin' the Hoodoos
Big Smile
The three amigos
From there we drove south through Hanksville (she didn't know towns could actually be that small), made a quick stop in at Natural Bridges, and set up camp a few miles north of the Kane Gulch Ranger Station. We played games and GNat (renamed for the occasional gnats we would experience) became the Farkle Queen:
Let's Farkle!
We had a pleasant evening on the Mesa and got up early the next morning to, again, beat the heat.
Friday, June 21 :
The plan for the day was to hike to the Citadel in Road Canyon. The hike went very smoothly until we had to drop down into the canyon. Nat had never hiked over steeply slanted slickrock before and she nervously asked how we would get back up it. We assured her it was easier going up than going down and we continued. When she caught sight of the "peninsula", though, her nervousness shot up considerably. The wind was very gusty (40 - 50 mph was our guess) and that peninsula looked
very
skinny to her eyes. So, I got down on my hands and knees and she followed suit. Unfortunately, she couldn't relax at the ruin as she kept thinking about having to cross the peninsula again was scared that she wouldn't be able to scramble up the slickrock. We cut the visit short, had some quick snacks, and headed back. She had no problem on the return, scampered right up that slickrock, and kept up with Grandpa Blake's long strides back to the truck.
Looks skiiiiiinnnnyyyyy.....
Patiently waiting for Gramps to check out the ruins.
A genuine smile now that we'd got past the scary parts.
A highlight of the hike. Natalie wanted to pet it.
When we later asked if she'd like to do that hike over she quickly said "Yes!". Another fun evening was spent playing games and joking around. She woke up the next morning saying she'd had a bad dream whereby dozens of other trailers and loud people and even louder generators decided to camp right next to us on the Mesa. Yes! She prefers solitude like we do!
Saturday, June 22 :
We relocated to the Blue Mountain RV Park in Blanding (which Nat declared to be very pretty - we agree) and took off in search of Big Westwater Ruins. The cheat grass was horribly annoying and didn't make for a fun hike. But Nat gutted it out and we made our way to the colorfully decorated ruins.
Her first piece of pottery.
The rest of the day was spent at the exceptionally nice Blanding public pool (who knew a town with less than 4,000 people could come up with the funds?!) and pizza from the Southway Mini Mart (don't knock it until you try it!).
Sunday, June 23 :
The hike for the day was to Target and Ballroom Ruins in upper Butler Wash. I was concerned there might be a healthy population of gnats and mosquitoes since I knew it'd be wet in the wash. We were pleasantly surprised, however, to find the hike nearly bug-free. Nat spotted the "target" of Target, checked out the rock art, but wasn't very impressed with Ballroom. She later said that the ruins all started to look the same to her. My bad, I shouldn't have assumed that someone like her that hadn't studied ancient cultures of the Four Corners would find it as interesting as we do. Duly noted.
Target complex
Bullseye!
That afternoon we hit up Edge of the Cedars and would've gone to the pool again but it's closed on Sundays.
Nat's favorite pot
My fave
Monday, June 24 :
On this day we slowly made our way from Blanding to Moab. Along the way we detoured out to the Needles Overlook. Unfortunately it was rather hazy so the views weren't that spectacular and the gnats that weren't at Target/Ballroom were having a field day at the Overlook. Then on to the madness of Moab. Thankfully our RV park was as far north as you can get and we didn't have to deal much with the crowds. The pool at the park was partook by Miss Nat while granny sorted out the next day's adventure.
Tuesday, June 25 :
The day's agenda was to try out canyoneering in Entrajo Canyon and now it was
my
turn to be nervous. After seeing Natalie get a little freaked out by the hike to the Citadel I was fearing her reaction to the rappelling and wading through mucky water. We gave her every opportunity to chose a different activity but she insisted that she wanted to run Entrajo. So, we met up with a guide (Zach from Moab Canyon Tours) and hiked to the head of the canyon. This time Natalie easily scrambled up the slickrock, showing no concern about heights whatsoever. The first rap was really more of an awkward down-climb that gave her a taste of what it's like to be on a rope.
First rap (photo taken with an old iPhone)
Happy Canyoneers
The final, 120-foot rap. Yeehaw!
Nat had a great time and I was relieved. I even put in a little fancy bouncing off the wall (like they do in the movies) during my descent to show her how you can have a little fun with it.
Wednesday, June 26 :
On our final day of the roadtrip we visited Delicate Arch. As expected, it was an easy hike for Nat and she was glad she got to see the famous arch, but I don't think she was crazy about the mass of people running around "the bowl" all hollering to each other.
Watching the crazy crowd of people.
We had a quick snack and sailed back to the truck. The drive on to Grand Junction was uneventful.
When asked what she liked the most about the visit she replied:
" - Rappelling
- Swimming
- Hiking
- Everything!"
And:
"I want to come again next summer. And for longer!"
Music to our ears.