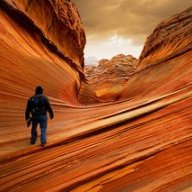 Broadcaster, formerly "ashergrey"
.
Joined

May 5, 2012
Messages

1,722
I rolled into Island in the Sky late in the afternoon on Saturday, feeling somewhat uninspired and ill prepared. I'd lost my headlamp. Only one change of clothes sat wadded up on the back seat of the car. The fuel gauge read empty, with the nearest pump more than 30 miles away.
On the drive down from Salt Lake, I'd seen ominous clouds over the Book Cliffs. It was obvious a fair amount of rain had fallen over Canyonlands.
The air at the Upheaval Dome trailhead carried the sweet scent of pinyon after a storm. The sun filtered through hazy clouds, sinking low toward the western horizon. I walked out to the overlooks to watch it set over the distant Henry Mountains.
Rays of light were filtering through residual humidity in the air, not quite a cloud yet not a fog. The moisture softened the light in an almost painterly manner. Gazing out over the White Rim and the Green River (both impossible to see in their defiles), I spied the Buttes of the Cross. They appeared as elements from a dream, half-remembered in the moments between sleep and waking.
Silence pervaded as I sat there on a slab of sandstone. The wind didn't stir. The crows didn't croak. The jet planes kept their contrails quiet. My own heartbeat, my own breathing seemed suspended.
I live and work surrounded by noise. My chosen profession necessarily involves creating, interpreting and sharing sound. In recent weeks and months, that sound has all too often been the cacophony of acrimony. Of politics. Of meanness. Of willful ignorance and intolerance.
Serenity then for me is the absence of sound. It's the reminder that for eons, wind and water have worked on these walls, shaping their forms. It's the knowledge that such processes will continue long after I am dead. That the sun will rise and set, creating unique and beautiful scenery here regardless of whether or not man is around to witness it.