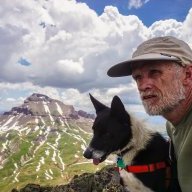 Joined

Mar 6, 2014
Messages

552
Around the Solstice we spent three days finding a route in and out to a remote sandstone peak between the Henry Mountains and Glen Canyon. The simplest one-way path was 16 miles and 16 hours of pretty difficult travel.
In the end we had logged 40 miles of scrambling, wading (ice breaking!), dome wrangling and mesa cruising.
Another 'mile per hour' trip of the best kind: zero trail walking, no write-ups on the Net, and besides the 1952 USGS marker on the summit no sign that people ever travelled here.
And we brought new gear to test.