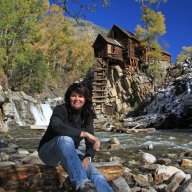 Joined

Mar 6, 2012
Messages

34
Solo Utah Adventure
I am planning a solo camping and photography adventure to Utah the week before the Memorial Day weekend. I am really interested in Night Sky (Milky Way) Photography. I drive a stock 2003 Jeep Grand Cherokee and have experience 4 wheeling only in the mountains of Colorado. This will be my 4th trip to Utah, but the first time by myself.
Day 1 – Drive to the North Swell area, undecided if arriving from I-70 or from Castle Dale? Camp near Wedge Overlook for Sunset. Night photography?
Day 2 – Sunrise at the Wedge again, or is there a better option? Morning spent checking out various rock art sites. Drive to Upper Cathedral Valley from I-70 on Baker Ranch Road. Overnight there for sunset and Milky Way photos.
Day 3 – Where to shoot Sunrise? Drive south to Fruita, I have concerns about crossing the river although I plan to check with the Ranger station for conditions. Any advice? Camp in Fruita, (after 2 days and 2 nights of talking to myself, I will be ready to talk to other people!) Sunset and night photography along the Scenic Drive/Capitol Gorge. Or other suggestions?
Day 4 – Sunrise, Fruita Barn? Suggestions? Depart Capitol Reef with stop at Goblin Valley, heading for Fisher Towers. Sunset/Night Photography Fisher Towers.
Day 5 – Sleep in
Drive to Canyonlands, Island of the Sky. Possibly camp Willow Flats. This will be my 3rd trip to Canyonlands in 3 years, so I have the iconic photos, but always hoping to improve! Sunset at Murphy Point. Unsure of night photography subject?
Day 6 – Sunrise at Marlboro Point. Depart for Arches with camping reservations for 2 nights.
Day 7 and 8 Arches. I have plenty of sunset/night photography options that I want to try, but am unsure of sunrises? On a previous visit, I have photographed Landscape Arch on a cloudless morning, ho hum, boring.
So, what do you think? Am I trying to do too much? What am I missing? I am planning day hikes each day. Is there a particular hike I shouldn't miss?
Thanks for reading and any advice!