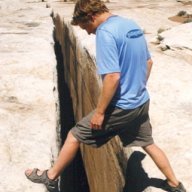 Joined

Mar 29, 2012
Messages

38
My wife was out of town for the weekend so I decided to take my 16 month old daughter down to the Swell since it had been too long. Drove down Saturday morning from Salt Lake City and went near the Smith Cabin off of the Tidwell Draw road to Horsethief Canyon north of I-70.
It was 3 by the time I started hiking and there is one particular spot that is tricky and I didn't want to do it with no backup to help me through. It requires an up climb through a narrow spot with a 70 foot dry fall as a consequence. For that reason, I decided to take a new route and look for an alternative up the canyon. After scrambling and bushwhacking up a few drainages, I decided to just slow down and enjoy the quiet. Leah was sleeping in her carrier and I just enjoyed being in the desert. After heading back and driving out I went to Green River and got a cheap hotel for the night. While there, we walked to the ChowHound and I talked to a young couple that were biking from San Fran to Key West. Nice.
The next day, I decided to do something with an actual trail to make it easier. I also thought LWH would be fun for her to walk around in. Had an older gentleman (80?) with hip problems call me a good Dad in the parking lot for getting the little one out there. I helped him up on an upclimb in the canyon and he emailed me a few weeks later saying he had made the full LWH/Bell loop which was really impressive. I've done it a few times but I warned him to take it seriously since it takes some energy and time.
I took my pack off and my daughter enjoyed walking through the narrows for a good while. We turned around after the narrows due to her stamina.
Made the trip back without too much to speak of. A rad experience. A good start for a future adventurer.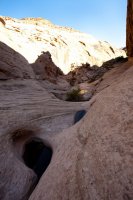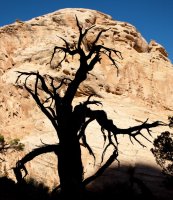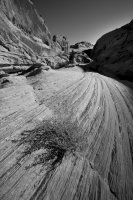 Things die here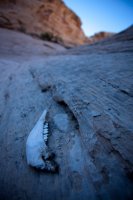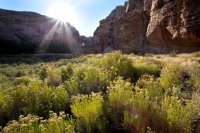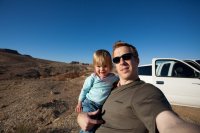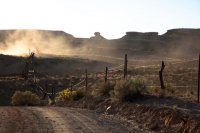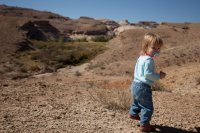 Fueling for Little Wild Horse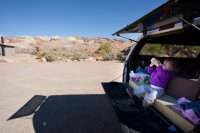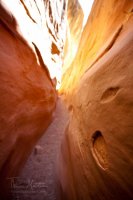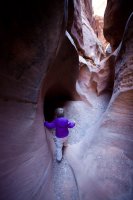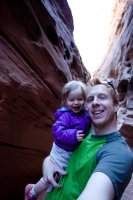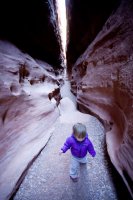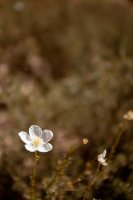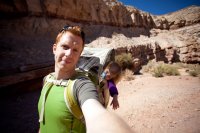 Featured image for home page: