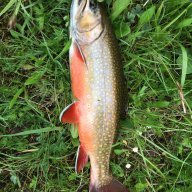 Joined

Oct 21, 2014
Messages

32
This past weekend if any of you were in the Uintas then you know how enjoyable the weather was. We began our hike at the Highline Trail head on Wednesday and arrived at the trail around 9:00 am. By the time all of the boys had their crap organized and ready to go the weather was starting to turn so everyone got on their rain gear and put on a smile and we began the hike.
About 20 min into the hike the rain turned into hail so we took a min to hunker down in an attempt to stay dry. Little did we know, we probably wouldn't be dry for the next 4 days.
With all of the rain that we were getting we re-named the Highline trail the Highline stream. Everywhere that was flat was standing water and everywhere that had a slope to it was a small stream. There was enough water running down the trail that one of the scouts tried to fill up his water bottle from the trail. I quickly pointed out the abundance of horse apples and let him know that it probably wasn't the best water source.
After several hours we made it to our destination of Pinto lake. As we arrived at the lake the weather broke and gave us a chance to set up camp and attempt to dry some things out. Following all of the set up, dinner, and being generally responsible, it was time to finally do some fishing. pinto was loaded with nice, hungry brook trout that were not shy about crashing a fly. Several of the boys were successful in catching fish.
Wednesday night we had a nice storm roll through resulting in 10 wet scouts but after the morning fog burned off there was enough sunshine to dry a few things out.
On Thursday the plan was to move camp up the 4 lakes basin trail to Allen lake. We moved past Governor Dern and Rainbow lakes.
After making the climb to Bedground lake we had a few scouts that thought that we would have to dig them some graves there and leave them behind (tempting) and it became evident that a good storm was beginning to brew again so as leaders we decided to call an audible and stay at Bedground. Just as we got things set up the storm broke and proceeded to dump buckets of water.
Bedground Lake was an interesting lake. It was chuck full of 5" grayling. one of my goals for this trip was to catch some grayling but these little sardines weren't satisfying my goal. after a few hours the weather broke and a few of us made a short day hike to Allen lake where the grayling were a bit more impressive.
after only about an hour at Allen the weather started to turn again so we headed back to camp for the night. the weather was bad all night and when we woke up we found that there was a skiff of snow on the ground.
Friday we planned to move from Bedground to Jordan Lake in Naturalist basin. this was going to be one of the prettiest days of the trip offering the best views. Unfortunately, me batteries were getting low so I didn't take as many photos as I would have liked to. From Bedground we took the short cut bypassing 4 lakes basin heading over to the highline trail. Where these two trails meet we went off trail for about 2 miles following a bench that lead over to Everman lake. this short cut was a beautiful way to enter naturalist basin and the hiking was very easy. i am shocked that there is not a trail running through this area.
As we reached Everman Lake it was apparent that we were going to be in for another storm. Once again an audible was called and we decided to stay at Everman
The last day my camera finally died so I didn't get any pictures of the sprint out of naturalist basin. Those scouts moved almost twice as fast on the last day as they did on the first day. Like a horse when he knows he is going back to the green pastures. Over all I think we can count the trip as a success. Many of the boys were a little unprepared but everyone made it out alright and I think they may have even had a little fun. As for me, even a wet 4 days in the mountains is better than any 4 days at work
Featured image for home page: