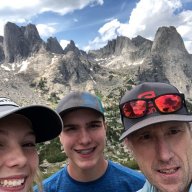 Joined

Dec 27, 2012
Messages

572
I snow shoed/hiked with my family to one of the yurts near Pebble Creek, ID. I made a Pulk Sled using an REI tutorial.
If you or someone traveling with you is new to winter camping I highly recommend starting out with a yurt. My kids loved it until they got cold on the way back.
The yurt had bunk beds and a wood stove so we were reasonably warm all night. My wife brought card games and other things to keep the younger kids occupied. Snowshoeing with a full pack and sled uphill smoked me faster than I thought even with very light elevation gain so be advised. I'm not sure why.
Anyway, I thought I would post post this for those itching to get out but reluctant to do so in the winter.