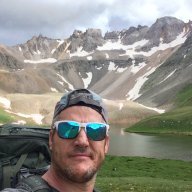 Joined

Mar 1, 2016
Messages

384
I just started snowshoeing this year to stay in backpacking shape for the summer. I started off with a few warm up hikes and then 2 weeks ago decided to Climb Lewis Peak in the Ogden area. Trail starts at the top of the North Ogden Divide. In the summer it is 5 miles one way to the peak. Lewis Peak is at 8031 feet. One of the things I really like about snowshoeing is that you don't have to follow the trail. You can just go straight up and for that matter straight back down. Although I would recommend watching for trees on the way back down.
View going up
View from Lewis Peak looking towards Mt Ogden
View of Ben Lomand Peak from Lewis Peak which was my inspiration for my next snowshoeing adventurre.
View of the route on the way back down.
The trail is pretty steep in the beginning and then levels out on the top. It took me 3 hours to get up and 2 hours 15 minutes to get down for a grand total of 9.21 miles.
Yesterday I decided I felt the need to climb Ben Lomand from the North Fork Park trailhead as it has more snow on that side. Trail from the north Ogden divide is lacking in snow until you get up high. Ben Lomand Has an elevation of 9,712 feet. Round trip in the summer from North Fork Park it is 15.2 miles.
Here is a view 2.5 miles in with Ben Lomand Peak in the distance.
Pictures don't do it justice but this is the bowl I climbed up to get to the saddle.
View of Ben Lomand Peak from the saddle.
View of lovely cornice. Almost near the top.
Gotta love the views from the top! Looking toward Lewis Peak and Mt Ogden.
Always have to get a shot of the beautiful sign in Box at the top of Ben Lomand Peak. It sure does look lovely this time of year.
View of Willard Peak which is 53 feet higher than Ben Lomand Peak from said Ben Lomand Peak which is 53 lower than the afforementioned Willard Peak.
Obligatory selfie from the peak
Had to get a comparison view from Ben Lomand peak with the lovely snowshoes that helped me get to the top looking back so 2 weeks ago towards Lewis Peak and my inspiration for this journey with Mt Ogden right behind it.
For a round trip of 9 miles. Most of it was just going straight up which made coming down very enjoyable.
I have been renting my snowshoes from Recreation Outlet but must get me a pair for next year with my fall REI 20% off fall discount. I tried to msr lighting ascents which were very and light. Had better traction for traversing and going up and down hills but pricey. Have enjoyed the msr evos. They have done the trick quite nicely especially on harder packed snow and have the 6 inch tails for powder. But am thinking I will get the MSR Revos which are supposed to be the new and improved evos. They are usually $50 cheaper than the lightnings. Haven't been able to try them yet as they don't rent them out anywhere but the guys at recreation outlet assure me that's the one to get. Can't go wrong with MSR both of the ones I have tried were great and have so much better traction than the old aluminum tube frame ones.
That's all the story and unnecessary snowshoe opinions I have for today.
Thanks.