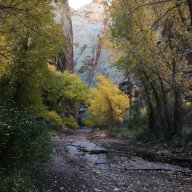 Joined

Mar 27, 2015
Messages

170
For the last few years we have tried to make it a tradition to head down to southern Utah and do some snowshoeing around Cedar Breaks National Monument. Last year there wasn't enough snow to make the trip worth it. But this year we had enough snow, and we also had good weather. We were going to snowshoe into a family cabin on the first night there, then the next day we would snowshoe around Cedar Breaks. We got to the parking spot about 15 min before it got dark. This gave us enough time to get all of our stuff ready and to get most of the way to the cabin before it got dark.
Looking down towards Cedar City.
After we reached the end of the groomed section of trail, the real fun began. We had to make our path to the cabin. With heavier than normal packs, it made for quite a work out. Along with a pack I also had a sled to pull food and some other stuff in. We joke around that if you fall over while snowshoeing you have to yell out "life alert", that way someone knows you have fallen and can't get back up. I had one "life alert" as we made our way in. Every so often we would also switch who was in front, that way each person in the group could have a turn breaking trail. Once we got to the cabin we got a fire going and relaxed for the rest of the night.
The first goal of the day was to make our way down to the Alpine Pond in hopes that it would connect with an overlook that was further down.
The winter yurt that is normally open on weekends.
The trail for the Alpine Pond started behind the winter yurt. Normally the winter yurt is open on weekends, but with the shutdown going on no one was there.
When we reached the Alpine Pond the trail stopped. We took a minute to decide if we wanted to continue the trail along, or if we wanted to go back to the road and continue on from there. I took a couple of steps forward and decided it would take to much effort to make own trail. So we headed back to the road. After taking a quick break by the yurt, we continued down the road to Chessman Overlook. We passed a couple groups of snowshoeing, as well as some cross country skiers. I saw one skier that was going up hill at what I thought was a really fast pace. It was impressive how effortless it seemed for him. If it would have been me I would not have been as graceful.
Once we got to Chessman Overlook we stopped ate lunch and took in the views.
After relaxing for a bit, we made our way back to the cabin. We spent the rest of our time hanging around the cabin and enjoying each others company.
I spent some time wandering around a taking some pictures. They aren't the best pictures in the world, but they work. The next day we got up early to get ahead of storm that was supposed to be coming in. Once we got out of the trees the wind was blowing pretty good. It went through my layers pretty quickly. I would say that it was a successful trip. I believe that everyone that went had an enjoyable time. I am looking forward to next winter when we can go again.