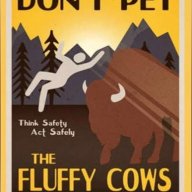 Joined

Mar 3, 2013
Messages

3,966
The Largest Venomous Snake in Yellowstone National Park: Prairie Rattlesnake (Crotalus viridis)​
Prairie rattlesnakes are also called western rattlesnakes — they're the only venomous snake in Yellowstone. ©iStock.com/HRossD© Provided by AZ Animals
Although the bullsnake is the
largest reptile
in Yellowstone, it isn't the most dangerous. The largest and most venomous snake within the park is the
prairie rattlesnake
. The prairie rattlesnake is a venomous pit viper related to other rattlesnakes, plus
copperheads
and
cottonmouths
. Using venom and heat-sensing pits on their snouts, pit
vipers
effectively hunt prey and defend themselves from predators.
A complete breakdown of the prairie rattlesnake​
Prairie rattlesnakes are the second-largest snakes in Yellowstone and the largest (and only) venomous snakes in the park. They generally grow to 48 inches long and are extremely thick-bodied snakes.
Like all rattlesnakes, the prairie rattler can be identified through the heat-sensing pits between its nostril and eye, and the distinct rattle on its tail. Dorsally, prairie rattlesnakes have large, dark, roughly oval white-edged blotches over a lighter color; usually shades of tan or brown. Additionally, prairie rattlesnakes usually have light-colored head stripes — two on each side. Like other rattlesnakes, prairie rattlesnakes have heavily
keeled scales
that have a ridge in the center of each. Keeled scales make their skin look rough to the touch.
Prairie rattlesnakes live in the lower elevation areas of the park, namely in places like Reese Creek, Stephens Creek, and Rattlesnake Butte. They prefer warm, dry areas, and these locations are the warmest and driest locations in the park.
Prairie rattlesnakes use powerful venom to hunt prey and defend themselves. They generally prefer small mammals but will also eat
birds
and reptiles. Common prey includes squirrels, mice, rats, prairie dogs,
rabbits
, and other snakes.
Despite their powerful venom, rattlesnakes are much more defensive than offensive and prefer to avoid humans at all costs. In fact, the park has only two documented cases of bites throughout its entire history of the park. If you encounter a snake, just leave it be!