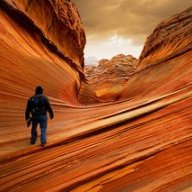 Broadcaster, formerly "ashergrey"
.
Joined

May 5, 2012
Messages

1,724
Ran up to Bend last week to visit the High Desert Museum. Time was short and snow's still packed up on the Cascades, so hiking options were limited. I ended up taking an afternoon walk around Smith Rock State Park, a popular rock climbing destination north of Redmond.
Daylight was already short when I set out, not really clear on my destination. I ended up looping the Misery Ridge Trail with the Mesa Verde Trail and ultimately returned to the car via the River Trail. All told it was about five miles.
The switchbacks on the way up Misery Ridge had my heart pumping. Before long I'd stripped down the layers to vent heat.
Views from the top were very nice. Pastoral scenes all around.
Sunset was obscured by a thick overcast clinging to the mountains out west.
I hadn't planned on hiking long and didn't even bring a headlamp. Thankfully, a nearly full moon meant I was able to make due without.
The park technically closes at dusk. There were plenty of climbers still on the walls though when I finally left.
The point of the trip was visiting the "Legendary Landscapes" exhibit at the High Desert Museum.
They're showing one of my photos, a long exposure from last spring at Broken Bow Arch in GSENM.
I was unfamiliar with the museum before hearing of the exhibit. Turns out, it's a really cool place. 2017 is the museum's 35th year. They do a lot of wildlife work, with a resident bobcat, river otters and plenty of birds of prey.
And while it's not exactly backcountry, I can't let slip the opportunity to mention Petersen Rock Garden.
Located on a back road between Redmond and Bend, this bizarre little attraction drew my attention on Google Earth. It's the work of a deceased Danish immigrant who in the mid-1900s turned his hobby of collecting rocks and petrified wood into the strangest little park.
In 2013 the garden was placed on the National Register of Historic Places but it actually fell into disrepair and was shut down last fall. It reopened in just late February, but a lot of work is still to be done.
The entire property is full of peacocks and chicken. The chicken were adorable, following me around as if expecting a treat.
The peacocks were also very vocal. And pretty.
Last edited: