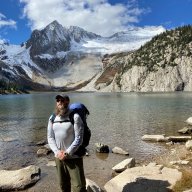 Joined

Feb 14, 2023
Messages

91
We flew out for Bozeman the evening of May 28, had quite the ordeal with a flight delay during our connection, and then a giant mix up at our hotel when we finally arrived, that couldn't be remedied at 2am. We dozed off for a few hours, then woke up at 6 to shower, get the rental car, and grab some groceries, camp fuel, & bear spray so we could head into the park & down to Madison campground which I'd booked for the next 5 nights. Amber would stay there for a night or two while I'd be on trail.
The forecast was calling for rain every day of the trip, so at this point I was just hoping there wouldn't be back to back days of heavy downpour. On our way in we stopped along the new entrance road to look down at where the old road had washed out, it was quite a site to see. I went to backcountry office in Mammoth to pick up my permit for the following day. We made a quick stop at the artist paint pots, which I hadn't seen since our first trip in 2019. After checking into our campsite & getting things set up there, we headed out to Old Faithful, hoping to walk the UGB for a bit, but that's when the first downpour came. We made our way into the inn where I grabbed a few drinks to sip on, and we opted to head back to camp rather than waiting to see OF.
I woke up around 5am the next morning and started the drive up toward the Slough Creek trailhead. The drive was quiet & peaceful, we saw a sow black bear with two cubs coming down from Dunraven Pass, and a lone grizzly in Lamar Valley. Around 8:30 we arrived at the trailhead, and parked away from everyone to make some breakfast and coffee. I'd been wanting to camp up Slough Creek for a few years now. I'd been up there a few times before, exploring off trail along the creek near the entrance road or day hiking to the first meadow. Every time, I wanted to venture further in. I had a permit to camp there in mid June of 2022, but then along came the flood waters. I was happy to finally be there, and under sunny blue skies, at least for the time being. I hiked out around 10am, May 30.
There were a lot of day hikers out the first few miles, but the crowds thinned out once I get beyond the first meadow. The only wildlife I saw during the hike in was a few deer, a marmot, and some bison grazing out in the meadows. Around 1pm the sky got pretty dark, and I got rained on for an hour or two, not nearly as bad as I'd expected. I made it to campsite 2S4 around 2:30, got all set up, and collected some firewood for later. I thought about hiking out past the site for a bit, but chose to just have a lazy evening instead. It was a beautiful setting, and I was still pretty tired from traveling the past few days. I had dinner around 6:30 & walked down to the creek after to see an elk up on the hill, a bison across the water, and a beaver that hung out right by camp for a while (couldn't get a photo of the elk) I started my fire around 8, and by 9 it was starting to rain again. I drowned what was left of the camp fire, and the night was dead quiet.
I woke up around first light the next morning, hoping to see some movement in the hills across the creek, but all was dead calm. I enjoyed my coffee & breakfast, packed up my (still damp tent) and made my way out around 9am. The plan was to meet Amber back at the trailhead around noon, so we could visit the canyon & Hayden Valley. No big wildlife sightings on day two either, just more dear and bison. I hardly saw any people until I got right back to the first patrol cabin, a wagon was headed up to the Silvertip Ranch as a passed by. The morning went from sunny to overcast quite a bit, but it was cool & windy with no rain. I was pleasantly surprised to have no issues with bugs on this hike. We spotted a group of pronghorns on our way back toward Tower Junction.
All photos shot with Sony a6300. 55-210mm for wildlife, 28-70mm for landscapes. Still getting used to this platform, after years of lugging around a big heavy Canon DSLR.
Bears seen on the drive to the trailhead: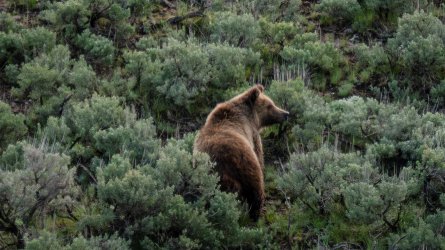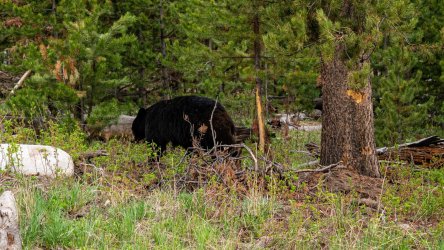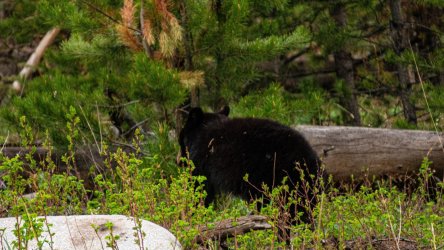 Coming into the first meadow: