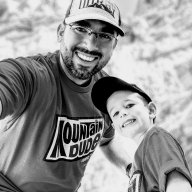 Life Elevated - Rising Higher
Joined

Feb 25, 2013
Messages

593
I absolutely love getting outside for little micro adventures! After a few changes in plans, Luke, Adam and I ended up backpacking up Slate Canyon to camp, and coming down Slide Canyon.
Our original plan for this weekend was to Backpack Nebo, but the weather was not playing nice. After some Caltopo map scouring, I tried to plan a route up Slate Canyon to loop around and come down Little Rock Canyon. however, once we got to the top where the trail was to take us over to Little Rock canyon, we quickly notices that we would be doing a lot of bushwhacking, since the trail was no longer present!
I was kinda bummed that we weren't able to make the loop over and down Little rock canyon, but that disappointment soon faded once we started our ascent up and over to Slide canyon. The views I saw from up there were gorgeous! The recent rainfall has turned the whole state of Utah green!
I am constantly amazed at the beauty to be found in the Wasatch mountains once you get up and into them. This trip was only about 10 miles round trip and we camped less than 2.5 miles (the way the crow flies) from the nearest house. The amazing thing to me is that even though were 2.5 miles away from Provo, I felt like I was deep in the backcountry of Utah. I found solitude, and it only took a few hours to get there!
If I may geek out a bit, below is the trail profile for our little trip. Kinda fun to hike 3900 feet in 4.5 miles! Amazing the beauty you will find in the high country
I decided to leave my real GPS at home on this trip, and decided I wanted to track everything with my Phone and GPS app. I used a App called Backcountry Navigator Pro. This app allows me to download topos and satellite imagery so that I can see where I am on my phone when i'm out of cell range. I am pleased to say that my phone worked flawlessly! I can now accurately use my phone for GPS navigation and tracking, as well as note taking, movie watching, music listening, and picture taking and editing! Love it! Afterwords, I get to play with my data in CalTopo.com and geek out with stats!
I had a great time hanging out with Luke and Adam. Both hadn't been backpacking for a while, so it was fun to get them out. Adam and I are preparing for a week long trip in the Wind Rivers this summer. Trips like this help us to get ready for that! Luke doesn't love backpacking, but he is a great friend and came with me anyway. I am so grateful for friends who are willing to come with me on these kind of trips.
The hike up was a doozy. We were all working pretty hard to make the climb, so when we got to camp we were ready for a break. After dinner was cooked and eaten, we all enjoyed a few games of Rook to entertain us for a hour or so. I had a blast chilling in the tent, laughing and playing games with friends. What a good time was had.
The weather that past couple weeks has been a bit wet. We thought for sure we would be slogging up the mountain in a rain storm, BUT it didn't pan out that way. We enjoyed cool temps for the hike up, and beautiful blue skies and puffy clouds on Saturday morning! I couldn't believe the weather was as good as it was. I blame Adam for rush shipping his pack rain cover. if he wouldn't have rush shipped that thing, i am pretty sure we would have been doomed to torrential rain showers the whole time!
But.... we weren't, and the weather was perfect for us. We did get a bit of rain that night, but I was thrilled to test out my hammock in the rain. It had yet to sleep in my hammock in a storm, so I was hoping to get that experience on this trip. I was pleased with how dry I stayed in my little hammock
Now on to the good stuff! The area we hiked into was stunningly gorgeous. especially for being so close to home. Here are some pictures to prove it. enjoy!
Featured image for home page: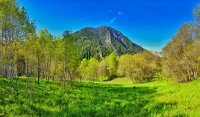 Last edited: