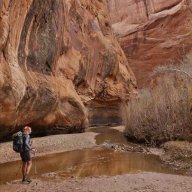 Joined

Jan 4, 2015
Messages

2,701
Anybody else get weird rashes on their legs after walking through water in canyon country? I used to think it was just my skin being persnickety, but then my buddy got it too on a Lower Paria trip we took a few years ago... and many other people I've talked to have reported the same thing. Yet I haven't been able to find any literature on the subject.

Anyone know what the deal is with this? Has this happened to you?

For me, it typically manifests as a terrible itchy-burny sensation on the "constantly wet" portion of the leg, and feels a lot like a bad sunburn. It's typically worst on the back of the calf. There's a strong correlation between the nastiness of the water and the severity of the rash - the sludge in the Buckskin cesspools or the gloppy mud in lower Kanab Creek stand out as prime offenders to me. But not sure whether mineral load, or decaying biological crap are to blame. Thoughts?