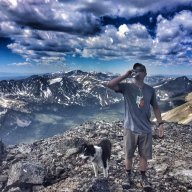 Joined

Oct 12, 2015
Messages

363
This report is from a few weeks ago, but I am just now getting a chance to put all the photos together.
A friend of mine had never been to the Highland Mountain lookout, so we've been talking about taking a trip up there for a while now. In the summer you can drive to within 1.5 miles of the lookout, then the summit of Red Mountain is only another 1/2 mile from the Lookout. In the winter, however, the road isn't maintained so, depending on conditions, we may have to park and walk a lot further.
On Sunday morning we met at 6:00am, knowing that we may have a long day ahead of us. Luckily, the snowpack has been unusually light this year, so we were able to get further up the road than we had initially thought. By 6:45 we were hiking under the stars, with just a silhouette of Red Mountain above us.
After about an hour the sun finally came out to warm us up a little.
Unfortunately, there was so little snow we had to pack our skis most of the way.
When we got in the trees there was finally enough snow that we could put our skis on and skin the next few miles.
By following the power lines we were able to cut a mile or so off our total distance compared to following the road. Surprisingly, no one else had been up there since the last snowfall so we were breaking our own trail. After another hour or so of skinning, we broke above tree line and could see the Lookout above us.
Have I mentioned the disappointing snowpack? Time to take the skis off once again.
We decided at this point to skip the Lookout and head straight up to the summit of Red Mountain. I had never summited in winter, but we picked the perfect day to do it. Sunny, no wind, and temps in the 20s.
The views from the top were, as always, incredible. I love the view back to Butte from the top of these mountains. Especially in the winter, as I found.
After a few pictures and some lunch, we decided to make our way down. My plan was to ski the rest of the way down (Cory is not a skier, so he was on showshoes), but you guessed it, not enough snow. So, I boot packed it down, stopping at the Lookout for pics, then continuing down further to treeline to finally take off the skins and enjoy some downhill.
At the end of the day, being completely exhausted, we started thinking about when we could start planning our next trip.
Last edited: