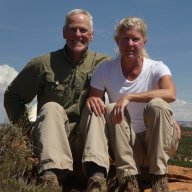 Joined

Dec 7, 2017
Messages

264
February 27, 2019
:
Day Two of our SE Utah trip started off with a visit to Sixteen Room Ruin (aka Seventeen Room, Echo Mesa Ruin, and Casa del Eco as well as a few other names). The easy drive out afforded views of Monument Valley, the San Juans, the Abajos, Comb Ridge, and occasional glimpses of Sleeping Ute. "Discovered" by folks of the 1896 Hayden expedition, this north-facing ruin has a commanding view of the San Juan river valley:
The rooms on the left were once two stories tall and appeared to be built in phases. Note how the lower half is reddish, while the upper half is tan in color:
There were dozens of reverse handprints and painted indentations on the back wall:
Blake standing near the only section through which you can (responsibly) enter the rooms. Would probably be a little tricky to get into alone:
This was the only surviving wood we saw at the site:
There were a few signatures from the late 1800's:
Me standing in one of the one story rooms:
Overall it was a good site worthy of a visit.
Next on the agenda was River House Ruin on the other side of the San Juan. But, as the day before, we were thwarted by deep mud and had to abandon that idea. This photo was taken while we were airing-down and before we got into the really
nasty
stuff. We had no interest in having to use the winch or traction mats!
So, changed gears and hopped on over to the other side of the Comb and made our way to the Lower Butler Wash trailhead. For the life of us, we couldn't figure out why in the world prior folks had built a wagon road down into Butler Wash when there's far easier access to the river over by Sand Island. Any clue?? I mean, really, sections of that old road would present some challenge even for a modern-day, 4WD, high clearance vehicle!
The hike itself was easy, but still provided a bit of a workout given the copious amounts of mud that clung to our boots. We took our time, constantly scanning for rock art and ruins:
And eventually we made our way to the main Lower Butler Wash panel. Here are our faves:
You could spend days and days here and still probably not see every figure and shape. Images were super-imposed over previously made ones, some were very faint, some way up high on the wall. I don't think we've ever seen such a dense collection of rock art before.
One thing that really confounded us were grinding grooves on the vertical surface of the panel. Wouldn't whatever you're grinding just fall to the floor??
On our way out we spotted more rock art on the west side of Butler Wash near the confluence with the San Juan. My camera doesn't have great zoom, so here's the best I could get:
This is a hike we'd do again, probably allowing more time to explore every alcove and suspected site of "interesting things".