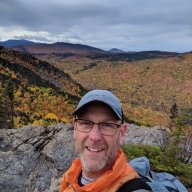 Joined

May 15, 2019
Messages

89
So I finally had time and weather to check off a winter version of one of the White mountains of NH crown jewel hikes. In it's easiest form it is about 19 miles and 8700 feet of elevation gain. 12 miles are above treeline. After a car spot with my partner we started at 0545. Unfortunately my partner had a major bonk at about the 4 mile mark. He opted to turn around and was kind enough to take my car back to the finish spot. He is a stand up guy who I owe a big favor too.
From Mount Madison looking south to Washington
Mount Adams from Mount Jefferson
Creeping closer to the high point. It always looks like it's "right there" yet takes forever to get too.
Eyeing the finishing ridge. It's gonna be a while
Rime ice on the summit observatory.
Clay, Jefferson, Adams, and Madison. The bulk of the vert.
Last peak, Mount Pierce. I was able to knock the whole thing out in under 12 hours. Now my face is on fire because I forgot sunscreen. I may take a few days off.