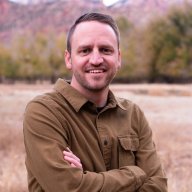 Joined

Mar 4, 2016
Messages

68
I grew up in Utah Valley and have lived there all my life, minus 3 year we lived in Herriman, and 2 years for that LDS mission thing. How I have never made it up to Silver Glance lake, let alone Silver Lake kind of blows my mind. Im 29 years old and I felt totally deprived of what is in my backyard after finally seeing Silver Glance.
Anyway, a few weeks ago I finally made it up to Silver Glance. I had mostly planned the trip so that I could get out and do some gear testing for a company that I have been working with on a different project. But any reason to get out over night is good enough for me. I left with my buddy Dane, an old friend from high school that I hadn't seen much over the last 6-7 years because I got married, had a kid and he's still a bachelor. But it was really nice to spend the weekend with him.
All I can say is that Silver Glance is an incredible place and still can't believe that I hadn't been up there yet. There were a few groups of people up there, including two gentleman that were obviously very annoyed that we had chose to hike up and spend the night up there too. They were tucked behind some boulders and I stumbled upon their tent as I was making my way around the lake to the east. I gave a friendly hello and apology for walking into their camp, and was greeted with an awkward level of silence and totally ignored by not even acknowledging that I was standing 5 feet from them. I quickly made my way away as to not spook the beasts, and got back to safety.
We cooked up a nice meal, walked out to see the alpen glow on Timp and retired to our hammocks for the night. In the morning we had planned to make a summit attempt of White Baldy as well, but ultimately decided that we didn't want to scale the steep terrain to get to the saddle that overlooks Silver Glance. Dane was dealing with a previous injury from a few days earlier when he summited Box Elder Peak on July 4th. So we chose to call it a day and hiked back down to the car. I had accomplished the filming that I needed to do for the gear I was testing/reviewing and so we just went home.
Overall it's one of the better overnight trips i've done in a long time. So close to home, and one of the most beautiful settings i've camped in.