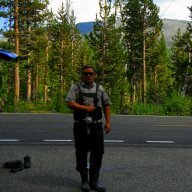 Joined

Sep 30, 2014
Messages

109
Finally got into the higher terrain on Friday with my twin bother trevor, and my two friends Ron, and Grady. We opted to tour my favorite fork in the wasatch, Silver Fork. We started in little cottonwood canyon at Alta and skinned up Grizzly Gulch via hawkeye ridge.
Soon we were at the east pass of Silver Fork and everyone was similing in anticipation.
After my twin dropped in I was next. I played a game of "hide and seek" thru the trees, which I mostly stayed hidden from the photograpgher.
Grady was in good form skiing next to the obstacles.
After lap one we ate lunch in a safe spot and watched a coyote run straight up the west bowl. I never had seen that before! It became quite clear I would sit the next lap out as my wrist surgeries from 3 months ago still won't allow me to use poles to skin up...which is CRUTIAL to skinning up steep hills.
On the way up the East Bowl they encountered some old equipment.
At the top of the line trevor taking a shot of himself "taking a shot" before going down to Big Cottonwood Canyon.
Grady skiing down the east bowl.
Ron snowboarding down the east bowl
The snow coverage was good for the 4 mile ski out, and the hitch hiking out of Big Cottonwood was effortless. I volunteered to get my car up Little Cottonwood via hitch hiking and didn't even wait a minite before getting a fast (i saw 62mph on his speedometer) ride back to alta for my car.
Last edited: